Recorded violent crimes in Wales up 21% in one year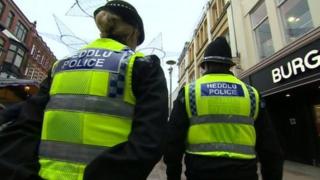 Violent crime recorded in Wales has increased by more than 21% in the past year, new figures have shown.
The number of recorded violent offences went up more than 9,000 for the year ending in March, according to the Office for National Statistics.
The rise in Wales was smaller than the 27% recorded across England and Wales taken together.
The official Crime Survey for England and Wales noted the rise was mostly due to better crime recording processes.
It also said it could be due to the expansion of a "violence without injury" category, which includes two extra notifiable offences.
The survey authors said an annual rise of 8% of recorded offences across England and Wales "is not considered a reliable indicator of trends in crime".
They also said estimates showed "no significant change in levels of violence compared with the previous survey year", although they said it was "too early to say whether this represents a change in the long-term downward trend".
Recorded violent crime rose in all four Welsh police areas, up from 42,721 to 52,076, the survey showed.
Crimes of violence with injury increased from 21,225 to 23,001, while recorded violence without injury went up from 21,472 to 29,045.
There was a smaller increase of 4% in total overall recorded crime in Wales, but there were falls in a theft, burglary, vehicle and drugs offences.
Sexual offences rose from 4,399 to 5,220.
"Most of the latest rise is thought to be due to improved crime recording practices and processes leading to a greater proportion of reports of crime being recorded in the last year than in the previous year," the survey authors said.
The overall figures for England and Wales taken showed there were almost six million fraud and cyber crimes committed last year - separate figures are not available for Wales.
The survey estimated there were two million computer misuse offences and 3.8 million fraud offences in the 12 months to the end of March - suggesting fraud is the most common type of crime, with most related to bank account fraud.
It is the first time fraud questions have been added to the survey.
The figures for Wales, excluding fraud, showed there were more than 189,000 recorded crimes in the year up to March 2016, up from 181,000 in the previous year.