Farmers welcome plan to end US ban on British beef and lamb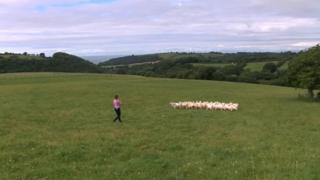 Farming unions in Wales have welcomed the news that America is considering proposals to relax import restrictions on British lamb and beef.
It would mean the end of a 20-year ban on British red meat which has been in place since the BSE epidemic.
Farming Minister George Eustice confirmed the US Department of Agriculture has published the proposal.
The Welsh Government said it "wholeheartedly" welcomed the development.
The move could generate an extra £35m for the UK economy and has been welcomed by the Farmers' Union of Wales.
"This could mean that Welsh and British lamb and beef may well be available for US consumers by early 2017 and with that opens an export market to 300 million consumers for our first class quality produce," said Farmers' Union of Wales president Glyn Roberts.
"Now more than ever we need to explore other markets, and the US market is one we are keen to develop much stronger relationships with, so this comes as most welcome news.
"It will also help us in trade negotiations with our allies in the Commonwealth and other countries around the world."
Anwen Hughes, a lamb farmer in Llanarth, Ceredigion, currently exports half her produce to Europe but believes it would be a huge boost to farmers if Welsh lamb was back on the menu in the US.
"This is huge, the opportunity of being able to export lamb to 300 million consumers. It's especially important now with Brexit we need to look at other markets," she said.
A Welsh Government spokesman said: "We wholeheartedly welcome this development which has come about following prolonged negotiations between UK and Welsh Government ministers and officials with the US Department of Agriculture including most recently hosting Stan Phillips, agricultural counsellor and Steve Knight, agricultural specialist at the Royal Welsh Show in Llanelwedd."