Daily Post newspaper staff take industrial action over restructures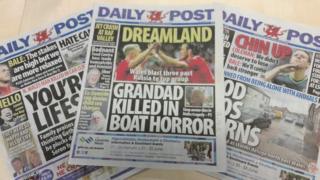 Journalists in north Wales are taking part in industrial action on Thursday over newsroom changes.
Three Trinity Mirror chapels are holding two-hour disruptive meetings in response to redundancies and heavy workloads which they say threaten quality journalism.
They include the Daily Post based in Conwy and two titles in Newcastle.
Trinity Mirror said they were "disappointed" action was being taken over "small but essential changes."
The company announced in May that eight Daily Post jobs were "at risk" as part of a restructure of staff, but that six new roles would be created.
As a result it would be scrapping the Senedd reporter and covering politics from north Wales.
A statement from the Newcastle and North Wales chapels said: "These changes, coupled with the fact that we are now all working in a figures-driven environment, are having an impact on our ability to produce the high standards of journalism our newspapers and websites are known for, and our ability to serve our readers and communities."
'We're disappointed'
A Trinity Mirror spokesman said the proposals which have led to industrial action will see a "net loss of two roles" in the newsroom and "no compulsory redundancies."
"We're disappointed that the local NUJ chapels in Merseyside and north Wales have chosen to take industrial action over small but essential changes which are vital to evolving our brands," he said.
He added that they have been "open and approachable" with their editorial teams and the National Union of Journalists in explaining the changes.
Similar industrial action is being taken by staff working on Merseyside titles on Friday.
Trinity Mirror North Wales publishes the Daily Post, North Wales Weekly News, Caernarfon and Denbigh Herald, Flintshire Chronicle and Holyhead and Bangor Anglesey Mails.