BBC apology over 'inappropriate' tweet on Welsh language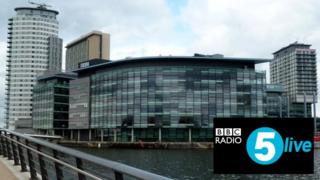 BBC Radio Five Live has apologised for a tweet asking someone to speak about "why the Welsh language should die" on air.
Welsh language commissioner Meri Huws said it was "verging on racist".
It was sent by a BBC Radio Five live researcher to a specific person asking them to appear on a show on Monday.
The station apologised for the tweet, that has since been removed, and said it was for a "broad discussion about non-English languages".
The show was broadcast at 18:40 BST on Monday.
"We aired a broad discussion about non-English languages. We obviously wanted to reflect a full range of views," BBC Radio Five live said in a statement.
"In seeking to do this, an inappropriate tweet was sent from a personal account. We're sorry for any offence caused."
But Welsh language commissioner Ms Huws described the tweet as "unacceptable".
Speaking to Radio Cymru's Taro'r Post programme, she said whether innocent or not, the question was not "acceptable in modern Wales or the modern world".
She added: " It is a negative question, verging on racist, and is unacceptable."
Ms Huws has contacted BBC Wales director Rhodri Talfan Davies regarding the issue.
Plaid Cymru leader Leanne Wood also tweeted the person who sent the message, asking "on what planet is this ok?"