Act to ensure enough nurses are on duty to be implemented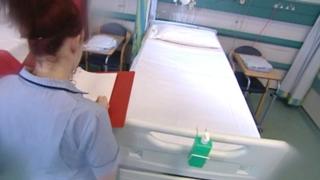 Plans to ensure hospitals in Wales have enough nurses on duty at all times moved closer with an implementation schedule announced.
The "More Nurses Act" was proposed by Liberal Democrat Kirsty Williams and passed into law by AMs in February.
On Wednesday, a commencement schedule was announced that includes consultations with the public and professionals.
Chief nursing officer Jean White said it was "an important milestone".
Health secretary Vaughan Gething called nurses "the beating heart of the NHS here in Wales".
Director of the Royal College of Nursing in Wales Tina Donnelly said the organisation would now work with the Welsh Government to ensure appropriate nursing staff levels across Wales.