Callouts to falls prompts Denbighshire home help pilot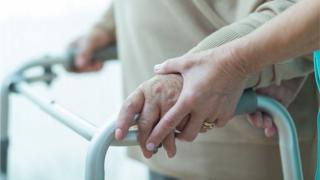 A new help service to assist vulnerable people who fall in their homes has been launched in north Wales to ease pressure on the emergency services.
Denbighshire has been selected for the pilot area where there are about 3,000 falls requiring assistance every year.
Community safety staff employed by North Wales Fire and Rescue Service have been given training to help people who suffer a non-injury fall.
The ambulance service and other care agencies can call out the new team.
Stuart Millington, from the fire service, said it would ease pressure on the emergency service as it deals with about 250 callouts a month to falls in Denbighshire alone.
Peak times
Insp Paul Wycherley, from North Wales Police, said: "Our officers are often called out to support instances of falls in the home and this new initiative will therefore alleviate some of the pressure on our own resources."
The pilot will run for about eight months with staff covering peak times between 07:00 and 23:00 BST.
It is supported by the Welsh Government, the emergency services, Denbighshire council, Betsi Cadwaladr health board, and local care callout services.
Mark Timmins, from Welsh Ambulance Services NHS Trust, said it would reduce the need for a traditional ambulance response and improve chances of people being able to stay at home.