St John Cymru wants 5,000 extra 'lifesavers' in Wales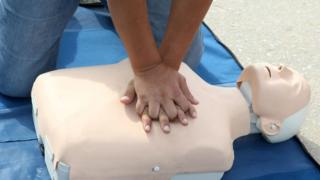 A campaign to train an extra 5,000 first aid "lifesavers" in Wales has been launched by St John Cymru Wales.
Every September, the first aid charity offers free, two-hour training sessions across Wales, teaching simple techniques on dealing with emergency situations.
It is hoping to top the 3,000 extra people trained last September.
Chief executive Keith Dunn said it could be "the difference between a life lost and a life saved".
Mr Dunn said the vision was to have a "first aider in every home in Wales", adding: "We believe nobody should die because they needed first aid and didn't get it."
Social Services and Public Health Minister Rebecca Evans said: "Giving people across Wales the opportunity to learn basic techniques means they could confidently step in to save the lives of their friends, neighbours and loved ones in the future."
Welsh Conservative AM Suzy Davies offered her support, pointing to her attempt to introduce a law requiring schools to teach live-saving skills.
She said it would "serve to cultivate a new generation of lifesavers who can help support the work of overstretched emergency services and save families from the ultimate heartache".
What first aiders will learn:
How to perform cardiopulmonary resuscitation (CPR)
What to do if someone is choking
How to treat severe bleeding
How to put someone in the recovery position