Zulus re-enact Battle of Isandlwana at Cardiff Castle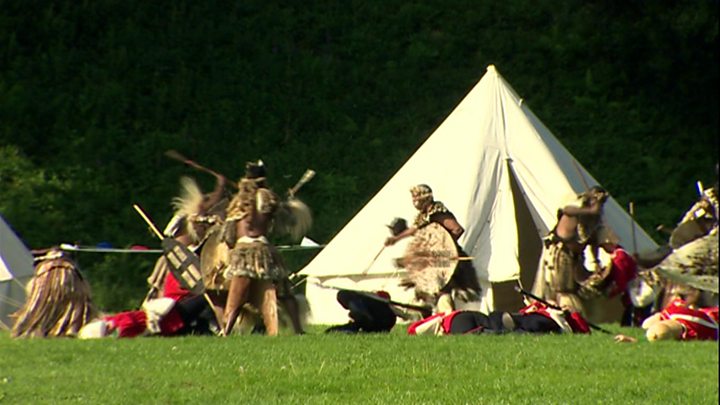 About 80 Zulus have been in Cardiff to take part in a re-enactment of the Battle of Isandlwana.
The Anglo-Zulu War took place in 1879, provoked by the British invasion of Zululand as part of a plan to create a confederated state in southern Africa.
The British forces were caught unprepared at Isandlwana where the Zulus won a famous victory.
But later the British won at Rorke's Drift on the Natal border with Zululand and ended the independent Zulu nation.
Thursday's event at Cardiff Castle was in partnership with the Friends of the Royal Welsh Regimental Museum at Brecon.
'Commend bravery'
"We're here to mark the 135th celebrations of King Cetshwayo's capture," said Dorcas Cresswell, trustee of the Royal Welsh regimental museum in Brecon.
"The king was brought back to this country after the Zulu wars where he met Queen Victoria and then reinstated back to KwaZulu-Natal as the king
"We tend in this country to celebrate Rorke's Drift and over in the KwaZulu-Natal, they celebrate Isandlwana.
"What we want to do is bring the sides together and say that we commend bravery on both sides."
Prince Mthokozisi, from the Zulu Kingdom, said: "The king delegated us to say that was war but we have a new war to build on relationships and make sure the cross-cultural diversity and exchange should be forged."