Prisoners in Wales 'given 10,000 extra days' punishment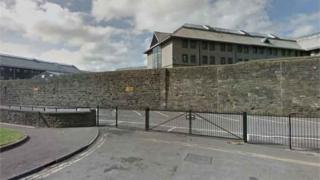 Prisoners in Welsh jails were given more than 10,000 extra days on their sentences last year, a charity says.
The number of additional days given as punishment for breaking prison rules has risen by 75% in two years across Wales and England.
The Howard League for Penal Reform wants jails to follow Scotland's lead and scrap the practice.
The Ministry of Justice said most prisoners did not serve additional days, but those who broke rules should.
HMP Cardiff saw a steep rise from 1,683 in 2015 to 2,829 in 2016. Parc Prison in Bridgend rose from 5,891 to 6,293, but Swansea's figures fell from 1,412 to 1,219.
The league, which calculated the number of days, estimates that across Wales and England the total of 290,000 will cost the taxpayer about £27m.
Scotland scrapped the use of the punishment 10 years ago, and the league reports the service has found no evidence it had a negative impact on behaviour.
It also says the punishments place more pressure on the prison population and worsen overcrowding.
'Consequences'
Frances Crook, chief executive for the league, said: "It is surely time to follow the example set in Scotland, where scrapping additional days' imprisonment has made prisons fairer and safer. There are more constructive ways to deal with misbehaviour than simply locking up people for longer, which puts even more pressure on the system.
"Bold but sensible action to reduce the prison population would save lives and prevent more people being swept into deeper currents of crime, violence and despair."
A Ministry of Justice spokeswoman said: "The prison discipline system upholds justice in prisons, ensures actions have consequences and empowers governors to make the right judgements for their circumstances and their prisons
"The vast majority of offenders leave prison without serving a single additional day. But the public and our hardworking staff rightly expect that those prisoners who choose to break the rules, making life more difficult for staff and other offenders or putting their safety at risk, should face the consequences.
"Where this amounts to a criminal offence, prisoners will be referred to the police."