Flintshire-based house builder Redrow has record profit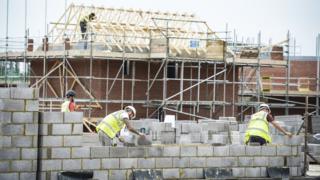 Wales' biggest house builder Redrow has reported a record pre-tax profit of £315m, up 26% on last year.
The Flintshire-based firm said Brexit had so far not had any impact on its business, with the new homes market "buoyant".
Chairman Steve Morgan has previously said costs were too high to build new homes in much of Wales, and he said that remained the case.
"Our operations are confined to the M4 corridor," he added.
"Sadly the days of building in many other parts of Wales are not viable at the moment," he told BBC Radio Wales' Good Morning Wales programme.
"It costs more to build in Wales.
"The building regulations are a lot higher in Wales and in many areas house prices are a lot lower."
'Massive shortage'
Redrow said it had continued to build new homes across England and Wales, with the number of completions up 15% to over 5,400 in the year to 30 June.
Mr Morgan said there were no signs that Brexit had affected the business, adding: "The new homes market is continuing to be buoyant.
"We do have a massive shortage of housing in the country so that's the one thing, the endless supply of people needing roofs over their heads."