Welsh artist Molly Parkin on painting and partying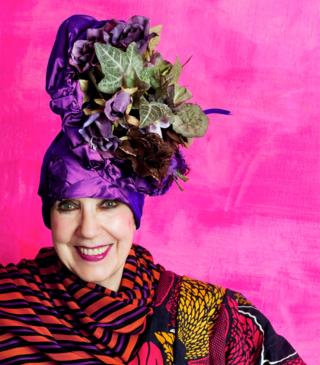 Molly Parkin is the painter from Wales whose art has become the final flamboyance of a very colourful life.
At 85 she has opened a new exhibition of paintings in London that span the length of her career as an outlandish artist, writer and performer.
The show at Chelsea's 508 Kings Road Gallery features works from the 1960s to the present day.
Born and raised in Pontycymer, Bridgend county, Parkin earned fame as an influential fashion editor for Nova, Harpers and the Sunday Times in the 1960s and 1970s.
She is credited with championing the early careers of designers including Manolo Blahnik and the Biba founder Barbara Hulanicki.
But she gained notoriety for her own outrageous dress sense, an addiction to alcohol and a love life as colourful as her wardrobe.
While her personality brought her fame, chat show appearances and her own TV and radio programmes, bankruptcy would eventually move her to a Chelsea council flat where she continued to paint from a bright, often garish pallet.
Her new exhibition features oils on canvas and newly-created prints. Some of the older paintings were discovered rolled up under the bed in her flat after a clear-out of artworks that she had created over the years.
Parkin's interest in art began as a child in Pontycymer, where she was encouraged to pursue her creativity at university despite the occasional raised eyebrow.
She said: "One of my aunties was headmistress, another was a teacher. One of my uncles was the preacher. So there was high education in my family, and you were expected to go on to university.
"But in my case, people were frowning about going to art school." She mimics a Welsh accent: "There's all nudes there, isn't it?' and all of that. 'They've got a nasty way of sleeping with each other', and so on."
So they were suspicious of her motives?
"Oh, very, very much so. Art students - females - and nurses always had the worst reputations, do you see what I mean? One was seeing naked bodies and the other one was drawing naked bodies."
While her passion for painting has survived, so too has her unique sense of style.
She makes all of her own clothes, and is always dressed in Indian silk gowns and hats.
"Clothes, for me, are fun. I've always thought clothes are fun," she says as she recounts how she used to dress her dolls in new home-made outfits every day as a child. And she says her early years also made her realise she had a talent for entertaining, and attracting public attention.
While recovering at a convalescence home aged seven after surgery on her ear, she earned admirers while singing loudly on trips to the seaside.
"People were throwing money at me, so I was picking it up and putting it in my pocket, I was really pleased. So I never was shy of people, strangers, and all of that."
She is now a vegan and, with the help of an Indian guru, she says she has found peace and the power to forgive. It includes coming to terms with the abuse she suffered from her father as a young girl.
"I've forgiven my father. That's a huge step for me to embrace my father with affection. He, after all, was the first one to take me to the National Gallery and introduce me to Turner, and Constable's The Hay Wain."
Parkin says her doctor expects her to live to 100. She says she will continue to paint for the love of it - not the money.
After all, she is one of a select few who receive a civil list pension from The Queen, although she confesses she does not know why she was chosen to receive the annual grant that is in the gift of the sovereign.
The sometimes brazen bohemian admits some surprise to having outlived many of the celebrity friends and lovers who had enjoyed her painting and partying.
With a smile, she said: "I know that they are up there looking down and waiting. It's like there is a lament: 'For god's sake Moll, when are you coming? We're having a big party ready for you here'."
Molly Parkin: Life in Colour is at 508 Kings Road Gallery until 28 September 2017.