'Can't move on': Family awaits justice for son's murder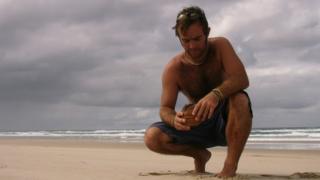 In 2014, Jeremy Brooke was murdered during an armed robbery at a remote South African resort. Three-and-a-half years later, his family is still waiting for the men accused of killing him to be brought to justice. They spoke to BBC Wales on the eve of a new trial date.
Chatting on the 'phone to her son Jeremy on the afternoon of 21 February 2014, Marian Brooke-Morris was struck by how happy he sounded.
They were close and spoke often. Jeremy's friends marvelled at their relationship.
"We had a laugh…his friends would overhear a conversation and say to him, 'you can't say that to your mother!' she recalled.
"But Jeremy would say 'she's not just my mother, she's my friend'
"We never went more than about two weeks without speaking. He used to ring me from anywhere in the world and say 'Mum, I'm thinking of doing so-and-so, when you have half an hour call me back.'
"It wouldn't make a difference to his decision, but he liked to talk to me."
Jeremy, 32 - Gumby to his friends and family - was born in South Africa, but had dual British and South African nationality as his parents were both British-born.
A "free spirit" who loved travel and adventure, he attended school in Durban before going on to agricultural college, studying both in South Africa and in Cornwall for a time.
He funded his travelling with a succession of jobs, including farming and factory work. He was a trained diesel mechanic and diving master and instructor.
Marian felt her son was in a "good place"; loving his job at a diving centre in the resort of Sodwana, on the north-east coast of South Africa, and preparing to travel to Nicaragua to work in the crew of the Australian TV series Survivor.
Jeremy was staying with five friends at a holiday cottage near Elliotdale, in the Eastern Cape republic of Transkei - a place they had visited many times without incident.
"He'd had a fantastic day, they'd been diving, they'd had a barbecue on the beach," said Marian.
She sensed that Jeremy was concerned about her, her husband John - Jeremy's father - having died suddenly only a couple of months earlier.
Money was tight since the Brookes had returned to the UK in November 2011 after 35 years of living in South Africa.
They had been concerned by what they saw as the increasing lawlessness of the country and the murders of a number of their neighbours.
Now living in North Cornelly, Porthcawl , Marian had some decisions to make about where she was going to settle after being widowed, and whether to take up the opportunity to buy the property she was renting.
Jeremy's elder sister Bronwen, to whom he was also close, was expecting her second child.
Marian and Bronwen had last seen Jeremy when he returned to south Wales for his father's funeral in December 2013.
Marian could never have dreamt that that phone call from her son, catching up on one another's news, would be their last.
"He basically wanted to know what I was going to do, that I was going to be okay…was I going to buy the house?
"And we spoke about Bronwen and the baby…he was really excited about being an uncle again.
"It was almost like he was thinking 'Okay, everything's got to be in place now.'"
When Marian's phone rang again around 04:00 GMT the following morning, dragging her from a deep sleep, this time it brought the news that would shatter her world.
"It was one of his friends from the diving centre at Sodwana…he told me Jeremy had been shot and killed.
"From there it was just…a bit of a blur. Next thing I know Bronwen's come round and we're howling our hearts out."
As the details emerged bit by bit over a satellite phone connection, Marian and Bronwen learned that five intruders had broken into the holiday cottage at around midnight, intent on robbery.
Several of Jeremy's companions were threatened or attacked.
"A few of them were hiding - as you would - but Jeremy didn't hide, he wasn't that type of person…he jumped in to protect his friends," said Bronwen.
"He jumped on this guy's back, naked, in the middle of the night, swearing and telling him to go away…then other intruders came and pulled him off.
"Two men held Jeremy by his arms and legs and the main perpetrator shot him twice, once in his chest and once in his face, and then just left him on the floor."
The robbers loaded the divers' boat onto a vehicle and fled, having also stolen mobile phones and wallets.
"While they did this some of the guys stayed with Jeremy, trying to help him and staunch the blood," said Bronwen.
"He was awake and aware of what was going on…he said 'Just tell everyone I love them.'
"Someone ran to neighbours and asked for help. They managed to load Jeremy onto the back of a truck and drove him two hours to hospital, doing CPR trying to keep him alive…but they knew he'd gone before they reached the hospital."
Shocking though it was, the family was well aware of the risks of life in South Africa.
"Unfortunately this type of thing is common…it's understood that you could lose your life for a mobile phone, that happens all the time and you become complacent about it after a while," said Bronwen.
"The next day someone living in a nearby town was offered the vehicle to buy…they'd heard there had been an incident the night before and so they contacted the police and that led to the perpetrators."
Within 36 hours, police had arrested five men and charged them with murder, robbery and possession of unlicensed firearms after members of the dive group identified them.
They were remanded in custody pending trial.
Around ten days later, a heavily-pregnant Bronwen flew out to South Africa with her husband and baby daughter.
Jeremy's body had finally been released by the authorities at Mthatha, the capital of Transkei.
"There was a feeling that everything that could be done, was being done, and for South Africa that was phenomenal," said Bronwen.
"Jeremy's friends really rallied around, they were absolutely amazing; they organised everything as we wanted it so by the time I got down there we were ready to go with his cremation and memorial service."
The order of service from Jeremy's memorial bears testament to his popularity, as family, friends and colleagues shared their memories of him and what he meant to them.
Favourite songs, poems and homilies all help to build a vivid picture of an exuberant and enthusiastic young man who enriched the lives of many.
Bronwen, a physiotherapist who lives in Neath, remembers her brother as "practical, clever" and "endlessly intrigued by the small things."
"He was lovely, one of those people that just everybody loved…he touched people's lives.
"He very much knew who he was, and was unapologetic about that but kind, exceptionally kind and caring, very funny and very loud.
"I always felt very lucky with my relationship with him because he was my best friend."
"He lived life to the full - and more - he was no saint!" added Marian, who said she always had an almost prescient feeling that she would lose her son at a young age.
"I had a very difficult pregnancy and birth with him, and we were lucky to come through it," she said.
"I made sure he made the most of every moment…if he wasn't happy with something I'd encourage him to change it.
"I think he knew he didn't have forever but he was in a lovely place in his head at the time of his death…he was happy.
"We both thought he would die in a diving accident, or surfing maybe…never like this."
After Bronwen returned from South Africa, the long wait for justice began.
After several unsuccessful bail applications by the defendants, a first court date was set for December 2014.
But the case was postponed as the accused had not yet applied for legal aid.
Further delays and adjournments followed and as months and then years slipped by, Marian and Bronwen became angry and frustrated at the slow pace of the South African justice system.
In early 2016 two of the defendants - including the man charged with shooting Jeremy, Sicelo Sigagayi - escaped from police custody while being taken to a court hearing.
They were both recaptured but in November 2016, escaped once again in almost identical circumstances, fleeing unshackled after cutting their way out of the back of a police vehicle.
Marian and Bronwen learnt only recently that Sigagayi was killed in a gangland shootout in June this year, having evaded recapture.
This has left them with mixed emotions about the death of the man who was said to have pulled the trigger on Jeremy.
"He hasn't stood trial as we'd anticipated, but at least he can't do that to anyone else," said Marian.
But it still grieves them that he was allowed to remain at large for eight months - even updating his Facebook page regularly - and that he was able to escape twice, given the seriousness of the charges.
This latest bizarre twist has only intensified their determination to see the case concluded and the remaining culprits convicted and sentenced.
"It's been a very traumatic thing to live with," said Marian. "You try to move on with your life, but it affects everything you do.
"Every time a trial date is set, that stirs it all up again.
"We brace ourselves for it not to go ahead again but it still impacts on us when that happens.
"It's like a slap around the face, it sets you back."
Marian returned to her job as a neo-natal nurse at Singleton Hospital, Swansea shortly after Jeremy's death.
In the space of a year she'd lost her elderly mother, her husband and her son.
"I held it together for about a year, then a couple of silly little things happened and I crashed and burned…I couldn't cope anymore."
Marian has since remarried, and is now retired.
Grief counselling with Victim Support has helped her start to come to terms with her loss, but the manner of Jeremy's death is still a raw wound.
"When you first have the counselling you don't think it will make any difference, but then I got to the point where I could say that it happened."
Marian's eyes fill with tears as she touches on one of the most difficult aspects, for her, of the tragedy.
"The fact that Jeremy was conscious for so long after it happened…that is still the most upsetting part of it. But it was only when I could put that into words that I started being able to cope.
"You live your life in boxes. You've got the box you show your family, the box you show your friends, and you've got this little hellhole that's there all the time.
"When you have a child, you love them unconditionally for the rest of their life: every day you're thinking of that child and wondering how they're doing, and have that comfort of knowing they're at the end of a mobile phone, no matter where they are in the world.
"And that doesn't change when they're killed…you don't stop thinking of them because they're dead."
Bronwen's devastation and anger are barely disguised as she explains how she feels about the delays in bringing those responsible to justice.
"It's been three-and-a-half years now and you can't move on. It's really difficult because it opens up new wounds all the time and just picks at the scabs.
"You're kind of living in limbo…it's very frustrating and very emotional…you have to get on with your life, but every now and then something comes up and you have to deal with it again."
It is not just Jeremy's family that needs closure.
Greg de Valle runs the Sodwana dive centre where Jeremy worked and witnessed the murder of his close friend and employee.
He wrote to the South African Police Service earlier this year, expressing concern about the delays in the case and questioning how the two prisoners were allowed to escape so easily, and whether this was subject of internal investigation by the force.
"The case has had delay upon delay upon delay since we first started," said Greg, who has already testified as a witness, along with the rest of the group.
"There's never enough pressure on the prosecuting authority to finish the case, they keep allowing these delays to go on and on.
"Closure is something we all hope for - just to put things behind us and try and move forward."
It is clear that the death of his friend has had a profound impact on Greg.
"You'll never be the same after you've had a violent crime like that, where you've witnessed that, had a gun in your face, trigger pulled…it didn't go off because luckily he hadn't loaded the gun.
"I walk around with a firearm permanently now. And it affects your family life a lot."
The case is now re-listed for trial at the beginning of October - but seems unlikely to finish then, as it is only listed for five days because the judge in the case is due to go on three months' leave afterwards.
Marian and Bronwen, along with Jeremy's friends and witnesses to his death, are bracing themselves for yet more delays into next year.
They look forward to the time when they can focus on the charity they hope to establish in Jeremy's name - the Gumby Legacy - and find some small positives from all the sadness.
"We've set up the Gumby Legacy, which is about helping and encouraging people to appreciate the small stuff, as he did - living things, nature, the ocean - and to give some meaning to his existence," said Marian.
"But we can't put our hearts into it until we know the guys who killed him have been dealt with."
Jeremy's ashes were brought back from South Africa by Bronwen and remain at Marian's home, awaiting the time when the family feels ready to say its goodbyes.
They plan to lay him to rest at Ogmore-by-Sea, where Jeremy's father John's ashes were scattered only a short time before his son's murder.
For Marian, until justice is done, time stands still.
"I can't let the ashes go yet…the trial needs to happen, there needs to be an end, an outcome," she said.
"But Jeremy would want me to be positive. One of his favourite sayings was, what the caterpillar calls the end of the world, the master calls the butterfly, and you've got to look at life like that.
"I feel privileged to have been his mum, and that he had Bronwen as a sister, and we had each other and were a family who spent time together.
"That's magical, no-one can take that away from us."