Uninsured vehicle seizures by police up 50% in three years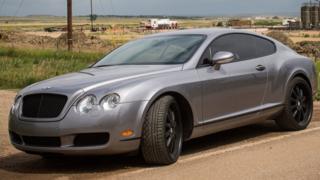 The number of uninsured vehicles seized in Wales has spiked by more than 50% in three years, new figures have shown.
Dyfed-Powys, South and North Wales Police seized 4,831 in 2016 - up from 3,137 in 2013.
Two of the forces have also raised £160,000 by scrapping or selling the vehicles after seizing them.
The Motor Insurers' Bureau (MIB) said "honest motorists" were ultimately the ones who footed the bill for uninsured cars.
The news comes as UK claims against uninsured drivers rose for the first time in a decade.
An MIB spokeswoman said: "What we do know is that we have seen a 10% increase in the number of uninsured claims received by MIB from across the UK. This highlights that we need to continue to tackle uninsured driving on a national scale."
The latest figures, obtained via a freedom of information request, showed that between 2013 and 2016, the number of vehicles seized by South Wales Police rose from 1,347 to 2,867.
In Dyfed-Powys, it went from 909 to 931.
In the North Wales force area, it went from 881 in 2013-14 to 1,033 in 2016-17. Gwent Police did not provide any figures.
North Wales Police made £111,590.99 by auctioning cars off after seizing them whereas their counterparts in Dyfed-Powys raised £50,863.38.
A seized Bentley Continental proved most profitable for North Wales Police, going for £14,484 in March 2017 - the 2017 model costs from £135,760 if bought at a dealership.
At the other end of the spectrum, the same force sold a Vauxhall Combo van - which cost about £9,000 when new - for just £39.
'Fund compensation'
South Wales Police said it used various means of targeting uninsured vehicles and drivers, including the use of mobile data devices for officers, roadside checks and regular safety campaigns.
"South Wales Police researches local intelligence in relation to criminality and identifies those who are linked to owning and using vehicles whilst disqualified, or not having insurance or a driving licence," said a spokesman.
"This data is utilised to target illegal drivers."
The MIB is the mechanism in the UK through which compensation is provided for victims of accidents caused by uninsured and untraced drivers,
It said car insurance was not only a legal requirement but its impact on public road safety was also "significant".
"The police are out on the roads all the time and they can see which cars don't have insurance using the MIB's Motor Insurance Database," a spokeswoman added.
"We also help tackle uninsured driving under the Continuous Insurance Enforcement scheme in partnership with DVLA.
"Ultimately the bill for uninsured driving is paid by all honest motorists who fund the compensation for thousands of victims each year, who are involved in accidents caused by uninsured drivers."
Negative impact
The MIB estimated that in 2016, 44,500 out of the 1.8 million cars registered in Wales were uninsured, a slight increase from 44,520 in 2015.
The Association of British Insurers said uninsured driving had a "negative impact" on the cost of car insurance for everyone.
"That is why the industry has been working with the government over the years to help tackle the problem, including introducing Continuous Insurance Enforcement in 2011," the ABI added.