£1bn metro and rail franchise hopes for Welsh firms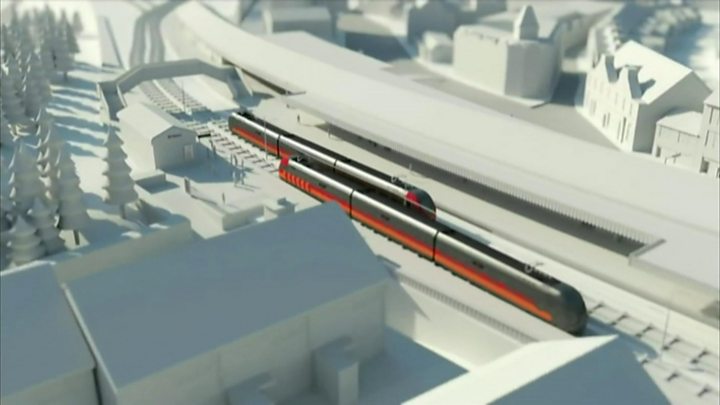 Wales is set to get a £1bn South Wales Metro and new rail franchise - but will Welsh small businesses benefit?
Some have spent the day meeting Transport for Wales to see just what is on offer.
The Welsh Government's not-for-profit company will award a contract to one of four bidders to build and operate the Metro and Wales and Borders franchise.
The projects had been delayed due to a funding row between the UK and Welsh governments.
The bidders - Abellio, Arriva, KeolisAmey and MTR - have been in discussions since June 2016 over the running of the network and a final decision is expected in the spring of 2018.
Transport for Wales hosted an event in Pontypridd for companies further down the supply chain who are interested in winning work.
But the delays to the Metro and rail franchise have caused concerns amongst businesses.
The Economy and Infrastructure Secretary, Ken Skates, said the Metro was hugely ambitious and tenders would be based on innovation and creative solutions, as well as providing opportunities in communities.
"We want larger companies to work with smaller companies to develop skills and create a win-win scenario," he said.
There have also been questions over the future of other major building projects including the M4, which is subject to a public inquiry, and the Swansea Bay Tidal Lagoon, which is waiting for a UK government decision on whether it gets the go ahead.
Electrification of the rail line between London and Cardiff is continuing, but plans to upgrade the line through to Swansea have been abandoned by the UK government.
Progress on a new nuclear power station at Wylfa on Anglesey is already underway.
These major projects require similar skills to allow them to progress and businesses want to ensure they can properly plan to deliver them.
Aluminium Lighting Company in Port Talbot, has been supplying lighting columns for councils for 20 years and more recently the export market.
"It's exciting," said chairman Barry Williams. "We've recently got our products on 20 stations in Wales and we're looking at the Metro now, with new stations and new opportunities.
"For a company of our size to be involved it's great and other small companies ought to look at it and get involved."
The firm said it had taken a lot of effort to move into the transport sector but it is looking to expand and offer apprenticeships.
Vale of Glamorgan company Rail Waiting Structures provides shelters and waiting rooms for railway companies.
Andrew White, project manager, said: "We've been going 30 years and the rail industry is a bit stop-start, having something like this will give us some long term development we can put money into."