Fewer people out of work in Wales according to the ONS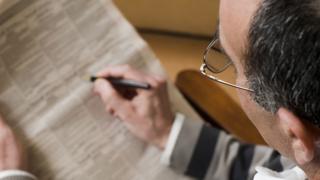 Unemployment has fallen further in Wales, according to quarterly figures from the Office for National Statistics (ONS).
The rate of unemployment in Wales between July and September was 4.1%, lower than the UK rate of 4.3%.
There were 5.000 fewer out of work than between April and June and 6,000 fewer than between July and September 2016.
However the number of economically inactive unemployed people was 8,000 higher than in April to June.
This group of people - who are not working and not available to work due to sickness or caring for someone - is 13,000 higher than a year ago.
The latest monthly unemployment rate was 4.1% for August, up slightly on last month's 4%, which was the lowest rate since records began for Wales, 25 years ago.
The number of people in employment has fallen for the second quarter in a row in Wales.
Senior ONS statistician Matt Hughes said: "After two years of almost uninterrupted growth, employment has declined slightly on the quarter.
"However it remains higher than it was this time last year, and as always we would caution people against reading too much into one quarter's data."
First Minister Carwyn Jones said unemployment in Wales was "close to an all time low" as the Welsh Government continued to "work hard to support businesses".
Plaid Cymru economy spokesman Adam Price said the south east of England was growing at the expense of rest of the UK.
He called for a "genuine rebalancing of the UK economy" on both an individual and geographical level by the UK Government.
"One region must not be allowed to power ahead at the expense of others," he added.