Sanjeev Gupta's Tata Steel takeover 'disappointment'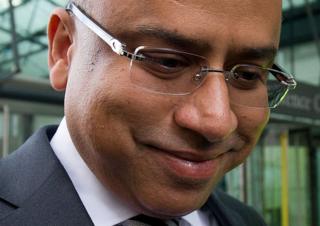 The boss of Liberty Steel has revealed how close he came to buying Tata's Port Talbot plant.
The BBC One Wales programme, Man of Steel, followed Sanjeev Gupta, for more than a year as he bought up parts of an industry in crisis.
Mr Gupta told of the disappointment when he realised Tata was not looking to sell Port Talbot but look to merge with German firm ThyssenKrupp.
"We were one hair's breadth away from doing it," he said.
"But it did allow us to break out of our shell and reach for the stars."
He added: "I did not believe it was not going to happen. I am a natural born optimist and I thought there must be a way.
"Even when it stopped, I lived in hope that it would happen. That's how I got over it but it was quite disappointing."
LIBERTY FACTFILE
Founded in 1992 as a trading company by Sanjeev Gupta, while studying economics at Cambridge university
The company now operates in 30 countries with more than 10,000 workers
Its turnover is close to $6.8bn
Its headquarters are in London but it has major offices in Dubai, Singapore, Hong Kong and Sydney.
Recent acquisitions include OneSteel in Australia, which employs 6,000 people.
Welsh interests include a hot rolled coil plant in Newport, which reopened in 2015 after being mothballed for two years
His wife, Nicola, also opened up about the tremendous pressure she feels is on her husband as the "saviour of the steel industry" and the impact his business life has on him and the family.
"It puts a lot of pressure on him to perform miracles, which is not what he's trying to do," she said.
Mr Gupta took over a steelworks in Newport, putting workers on half-pay and allowing them not to come in and take other jobs, waiting for the moment when he could reopen the site as Liberty Steel.
It reopened on the day the then-prime minister, David Cameron, was holding a crisis summit on the UK steel industry.
This was in a perfect storm of high energy costs, high business rates and cheap imports from China.
When Tata put its entire UK operations up for sale, including Port Talbot, Mr Gupta emerged as an unlikely buyer.