'Hairdresser gave me a burnt scalp for my wedding day'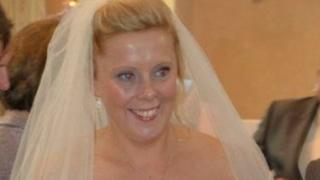 Wales' leading hair and beauty training provider is calling on the industry to be regulated.
ISA Training said the UK lagged behind the rest of Europe and the United States and anyone could cut or colour hair without any training or qualifications.
Here, Maria Sully, 44, who works as a credit controller in London, tells how two days before her wedding in July 2013, she received a burnt scalp after asking for highlights in a Cardiff salon.
"Like any lady, I wanted to look beautiful for my big day.
"Hoping for some blonde highlights, I booked into a salon I'd been to before, but it was a very busy day for them.
"They had two or three other brides to deal with. They left me too long and completely forgot about me, so the colour I was left with was horrendous.
"It was half yellow, half orange. I was in a state of panic and asked them to rectify it straightaway.
"They put six toners on it, but still the colour was awful. I spent five hours in the salon and eventually went home distraught.
"During that night, my head felt so hot, I thought my hair was going to fall out.
"In the end, I ended up with terrible hair for my wedding day.
"I also ended up with big burn marks on the back of my head, which was awful because I was wearing my hair up for the wedding and the clips kept cutting into my head.
"At that point, I didn't care. I just wanted to get on and get married.
"I didn't care if I was bald at that point. I just wanted to look nice for my wedding.
"In the end, I had to have most of my wedding photos in black and white, which was a shame really when we'd spent so much money on the day.
"At the service in Brecon, I wanted to hide away from everyone. It was dreadful.
"When I was on honeymoon in Thailand, I asked my husband to take a photograph of where it was sore.
"There was a chemical burn mark a couple of inches long.
"But when I got back and went to the hairdresser to complain, she admitted no liability.
"She said it was a mosquito bite and basically called me a liar.
"She then offered me eight weeks of intensive hair treatment to correct the colour, but I didn't take it.
"I had no reason to believe that the lady who was dyeing my hair wasn't capable of it.
"I was just not expecting that sort of treatment.
"I can't believe the industry is not regulated - it's madness."