Thieves risk lives for railway cables, transport police says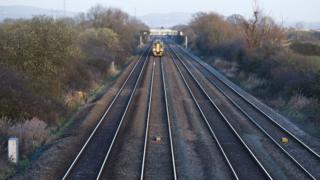 Thieves are risking their lives to steal rail cables which have little value and cause massive disruption, British Transport Police has said.
Fourteen metal theft incidents caused 10,000 minutes of delays on the Wales and Borders line in 2017.
One incident in south Wales amounted to nearly half of that time, affecting 387 services.
Network Rail boss Bill Kelly said it was not a "victimless crime" given the disruption caused to travellers.
When live cables are cut, it can cause a power failure on the network, turning all signals powered by the damaged cable to red and bringing trains to a standstill.
Sgt Ben Randall-Webb from British Transport Police said: "Cable theft not only results in significant delays and cancellations right across the rail network, but any attempt to steal cable is also incredibly dangerous, and anyone seeking to do so risks serious injury, or even death, through electrocution.
"Offences linked to theft of metal on the railway can attract a penalty of up to life imprisonment, so the implications are severe.
"However, the irony is that railway cable has no real value outside the railway industry, yet the cost to replace it is extremely high.
"In fact, thieves will struggle to get any money at all, as scrap metal dealers are highly unlikely to accept any cable."
Mr Kelly, chief operating officer for Network Rail in Wales and Borders, said: "With more passengers travelling on our network than ever before, even a small delay can have a huge impact on the network."