Welsh NHS trusts paying millions of pounds for medical errors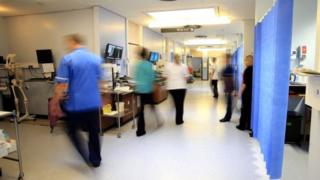 Welsh NHS trusts are paying tens of millions of pounds each year in damages and legal fees for medical negligence, according to BBC research.
Four of the seven local health boards have paid over £200m in total over the last five years.
Aneurin Bevan University Health Board paid the highest amount, £67m over the period 2012-17.
That includes £2.1m in payouts for historical mistakes - those relating to incidents before 1997.
Cardiff and Vale University Health Board paid £63.6m over the same period, while Cwm Taf University Health Board and Hywel Dda University Health Board paid £36.7m and £35.3m respectively.
The other three local health boards did not respond to requests for information.
In Wales, health boards handle their own litigation cases.
They can get negligence claims of more than £25,000 reimbursed by Welsh Risk Pool Services (WRPS), a mutual organisation funded through the NHS Wales Healthcare budget.
WRPS has reimbursed Welsh health boards a total of £163m over the last five years.
The figures have emerged as part of BBC analysis showing that across the rest of the UK, NHS medical blunders dating back more than two decades are still costing millions of pounds a year in compensation.
The BBC also obtained figures for three other health bodies in Wales.
The Welsh Ambulance Services NHS Trust paid out £3.4m, Velindre NHS Trust paid £376,000 and Public Health Wales paid £1.9m for litigation cases in the last five years.
Figures for England, Scotland and Northern Ireland show the negligence bill for mistakes made before 1995 - mainly maternity failings - has begun to rise for the first time in five years.
In Wales there has been no noticeable rise in the historic cases - but only two boards have been able to provide this data.