Call to safeguard Swansea's Bay TV's programme output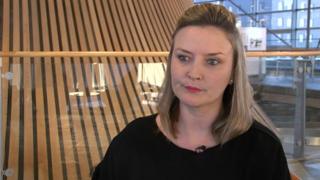 The new owners of Swansea's local TV station have been urged not to cut staff or reduce programming.
Plaid Cymru AM Bethan Jenkins called for Bay TV's new owners to "abide" by licence commitments that mean it must show 20 hours of new programmes a week.
The UK's largest operator of local TV channels, That's TV, bought the channel from the previous owners in December.
The BBC understands it has asked regulator Ofcom to reduce the number of programmes it must produce in Swansea.
Under its current licence agreement, Bay TV is required to provide 20 hours of local programming a week which is due to rise to 25 hours in its third year of broadcasting.
That's TV has not responded to requests for comment.
Ms Jenkins, chairwoman of the Welsh assembly's communications committee, said: "If you are going to get a big company buying out these local TV networks we need to ensure, if there are obligations to provide local news and local interest programmes, that it stays at the level that it is at now.
"We don't want to see a diminishing of that at all."
Bay TV launched in July 2016 and employs fewer than 10 staff on a freelance basis.
It operates from studios owned by the University of Wales Trinity St David in Swansea city centre.
Swansea is one of three areas in Wales to get a local television station as part of the roll-out of channels launched by former UK culture secretary Jeremy Hunt.
Made TV operates Wales' other stations which cover Cardiff and north east Wales.
Ms Jenkins said Bay TV's new owners should "abide by the public sector obligations within their contract from Ofcom, so that they can provide local news as was the reason to set up local TV, in order that we can become more representative of our communities".
Each local channel receives three years of funding from the TV licence fee when it is first established and must make its news content available to the BBC in return.
Channels are expected to rely on advertising revenue once the BBC funding ends.
While Bay TV is in its second year of operation, Made in Cardiff has entered its fourth and has cut staff and simplified its schedule since its licence fee funding expired.
Dr Jamie Medhurst from Aberystwyth University's department of film and television studies, said "good advertising revenue is dependent on good audiences... When those audiences aren't there, it's very difficult to see how local television can survive in its present state".