Ticketline UK: Cardiff council and museum owed thousands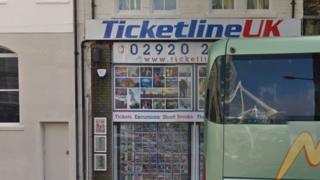 Cardiff Council and National Museum Wales face losing thousands of pounds over the collapse of ticketing company Ticketline (UK), which was placed into liquidation in November.
The Cardiff-based company owes £45,611 to the council and £22,470 to the museum.
The Welsh firm is distinct from the larger company Ticketline, which is a separate business.
The council and museum said they are liaising with the liquidators.
BBC Wales has learned the company has debts totalling £391,364 but only £83,326 is available to unsecured creditors, leaving a shortfall of £309,037. Its other creditors include HMRC, to which it owes £27,787.
The company provided tickets for live shows, sporting events and day trips.
A spokesman for National Museum Wales said: "All tickets for museum events bought via Ticketline (UK) were honoured... We are working with [the liquidators] to recover outstanding amounts."
A Cardiff council spokesman said it will not know if the Ticketline (UK) debt will be written off until the liquidators have officially submitted their report: "We are liaising with the liquidators to get this information as soon as it is available."
In December the firm's liquidators said that the loss of the ticketing contract for Winter Wonderland - an event commissioned by Cardiff Council - was a large factor in the collapse of the company.
The council spokesman said the council used to run the Winter Wonderland event in-house at a cost and previously used Ticketline (UK) to manage bookings for the ice-skating sessions.
"In 2012, following significant financial pressures, the council decided to secure an external contractor to deliver the Winter Wonderland event. Sayers Amusements were selected and this now brings in a small income stream to the council. Since 2014, Sayers Amusements have contracted all aspects of the ice-skating attraction to 11th Hour."
Cardiff-based 11th Hour Events said it was brought into the Winter Wonderland project by Sayers Amusements in 2016 to review the past operation and management of Cardiff Winter Wonderland, and to deliver the temporary ice rink facility.
"11th Hour invited Ticketline UK Ltd, along with other ticketing companies to bid for the ticketing of the event," said a spokesman.
"We made a fully informed financial and business decision not to proceed with Ticketline UK Ltd, and awarded the bid to another local south Wales-ased company, Ticket Source."
The liquidators CVR Global said creditors will receive a dividend from the liquidation process, subject to available funds.