Over 400 arrests in drink-driving crackdown in Wales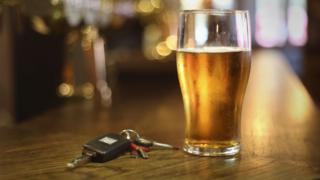 More than 400 people were arrested in Wales in December as police forces cracked down on driving under the influence.
The all-Wales Christmas drink and drug driving campaign, led by North Wales Police, saw 438 people arrested across the country.
South Wales police recorded the highest figures, making 207 arrests over drink and drug driving.
Police described the actions of those caught as "disappointing".
As part of the campaign, North Wales Police distributed free disposable breath test kits for anyone who wanted an indication of alcohol levels the morning after a night of drinking.
The force's Insp David Cust said: "We have received an overwhelming positive response to the disposable breath test kits. Many have told us it stopped them from driving the morning after having indicated that alcohol was still present in their systems.
"From our point of view if it prevented one person from taking a risk then they've done their job."
Ch Insp Daryl Fahey of South Wales Police said: "It's disappointing to see that a proportion of drivers are continuing to risk their lives and others by getting behind the wheel under the influence of alcohol or drugs."
Arrests in south Wales rose to 207 from 181 from December 2016's campaign, but there was a drop in north Wales, where 143 people were arrested, down slightly from 155 last year.
But the total for the month saw more arrests made than the average of 122 people per month in north Wales.
North Wales Police said it made 56 drug drive arrests and 87 positive, failed or refused breath tests.
Gwent Police made 88 arrest for driving under the influence.
Dyfed-Powys Police has been contacted for figures.