Cardiff man's care delay meant five more weeks in hospital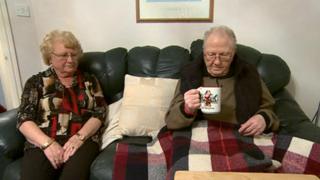 Last summer, Gill Mannings phoned the doctor and began to cry. Her disabled husband was bedridden with an infection.
"I was at the end of my tether - I couldn't go on".
Jim Mannings, 80, needed hospital care and was admitted to Llandough Hospital in August.
By the end of October he was ready to leave hospital, but it took five weeks for a care package to be put in place to look after him and support 76-year-old Gill at the couple's home in Ely, Cardiff.
Jim cannot be left alone as he suffers from Alzheimer's disease and a range of health issues that have left him with poor balance and mobility.
"I was glad when Jim went into hospital because it was like a holiday... getting back to normal life," said Gill.
His extended stay in hospital gave Gill some respite, but Jim was not happy.
"He wanted to come home. He tried to escape a couple of times. He always wanted me," she said.
New figures show that in December there were 425 people like Jim who had to stay in hospital despite being ready to go home or move to a care home. That was down from 430 in December 2016.
The primary reason for delay was because people had to wait for community care - nine people had to wait for an assessment while 120 had to wait for care arrangements to be put in place.
The second cause for delay was for healthcare reasons - 99 people had to wait for either an assessment or for a healthcare package.
Another 70 people waited while a decision was made about which care home to move to and 62 had to wait for a bed to become available in a home.
Swansea had the highest number of delays at 42 with 15 of those waiting for a healthcare assessment.
Blaenau Gwent had the lowest number - with just one person having to wait for a community care package.
Reducing delays in discharging elderly people from hospital is seen as a key to easing pressures on the NHS.
If there are delays in releasing patients medically fit to return home, this can create problems right through the system.
The Cabinet Secretary for Health and Social Services, Vaughan Gething, said delayed transfers of care are the lowest they have been since records began 12 years ago.
The Welsh Local Government Association said local authorities work in partnership with health and community care providers to coordinate care within tight constraints, but warned that social services are approaching "breaking point".
"Local authorities cannot be expected to continue to be able to provide such a focused effort on social care whilst such services continue to be so chronically underfunded, as stated this week by a group of hospital consultants who also reiterated local government calls for additional investment in health and social care."
Minister for Children and Social Care, Huw Irranca-Davies, said the Welsh Government had not made the "massive cuts in social care that have happened across the border" and was trying to give local authorities more flexible funding.
"Things like the intermediate care fund, the £60m that's gone in there, has really been welcomed by local authorities because it gives them the flexibility to work in regional partnerships to use the money in the best way they see fit," he added.
Claire Morgan, director of Carers Wales, said there was still pressure on the 370,000 unpaid carers who look after relatives. She said the pressure of winter highlighted that there was an issue around health and social care.
"Obviously, that impacts on carers because there is an expectation that loved ones will look after a family member when they're discharged from hospital. Our concern is that a lot of carers aren't involved in the process around hospital discharge, there's a lack of consultation and a lack of support for people to take a loved one from hospital to home."
The Mannings had some care arranged before Jim went into hospital but a different package of help was needed before he could return home.
Now carers visit every morning to wash him and get him dressed, and Jim spends Thursdays at a day centre.
"I'd like some arrangement where I could ring up and say I've got a hospital appointment next week, 'could someone give me an hour or two', or 'I need to go to the dentist, can someone sit with him?' said Gill.
"I don't want them in all the time."
Jim's health is now stable and Gill is busy but coping.
"I'm fit and well - other carers are not fit. I'm 76 but there's older people than me caring for people who are in a much worse state than I am.
"I'd rather keep him home as long as I can. I don't want him to go in [to a care home]. I know he wouldn't be happy. As long as we can manage him and get the support, it's ok."