Careers Wales scheme to link schools and employers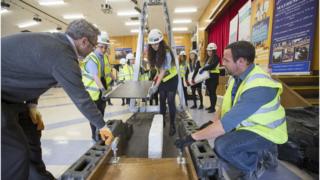 A new scheme aimed at helping children choose their career path has been launched following a five-year decline in work experience placements.
In 2012, 90% of 14-18 year-olds in most schools did a work placement, but an Estyn report out last year found no pupils did one in 29% of schools.
Now, Careers Wales has set up an online system linking schools to thousands of Welsh employers.
It said linking the two could see fewer children in poverty as adults.
Initially, the scheme - Education Business Exchange - will be available at 62 schools in Carmarthenshire, Bridgend, Torfaen, Newport, Ceredigion, Monmouthshire, Denbighshire, Wrexham and Gwynedd, before it is rolled out to the whole of Wales within two years.
Employers will provide detail on the activities they can offer, which could range from longer term work placements and taster sessions to talks at schools, master classes or workshops.
Teachers will be able to search the online portal and select businesses based on their location and type of activity on offer, dependant on their needs.
A Careers Wales spokesman said: "For example, a STEM (Science, Technology, Engineering, Maths) teacher looking to bring to life classroom learning could search the portal for a local engineering company, or a media studies teacher could source a digital media company."
Eventually it is hoped up to 13,000 organisations will take part, ranging from small and medium companies to council departments.
Minister for Welsh Language and Lifelong Learning Eluned Morgan said: "Bringing employers and young people together is vital to helping students understand the skills and experience they need to gain in order to move forward and succeed in the world of work."
The Estyn report published last September, said school work placements had declined because schools felt unable to meet the health and safety requirements of running a work experience programme after Careers Wales stopped maintaining a database of possible placements.
But nearly all schools who had stopped or reduced placements said the move had a detrimental impact on pupils' understanding of career options.
A UK-wide Making the Grade report, commissioned by charity Education and Employers, found engagement between schools and employers helped children do better in exams because it increased their understanding of the relevance of education to employment.