Hywel Dda health board looks at hospital closure options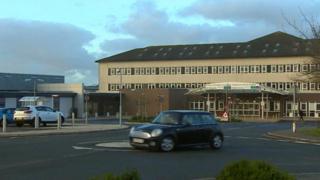 A radical shake-up of health services in mid and west Wales includes options to close hospitals.
A leaked document shows hospital closures in seven out of nine options.
Hywel Dda health board will be presenting its preferred options in the spring but said it needed a modern healthcare system, while "keeping hospitals for those who really need hospital care".
Last week a review urged a "revolution" in health delivery in Wales.
The independent panel said without "significantly accelerated" change, services which are already not fit for the future, will decline further.
All health boards are under pressure from Health Secretary Vaughan Gething to move forward with plans for reform the NHS.
Hywel Dda said it faces spending demands of £200m over the next five years on top of its existing budget - currently £800m - if it carries on as it is.
The health board - which is responsible for four general hospitals in Carmarthenshire, Ceredigion and Pembrokeshire - has already had an early "listening" exercise with the public and is now designing different potential models for how future services will look.
A document with nine of the options has been leaked to the media - but health bosses say they will be narrowed down and assessed before being presented to the public.
All options currently being considered include a network of community hubs with beds and none of the options involve closing Bronglais in Aberystwyth.
Seven of the options in the leaked document include closing one or more hospitals in Carmarthenshire or Pembrokeshire
Five of the options would involve the closure of Withybush hospital in Haverfordwest
One option suggests a new, major urgent and planned care hospital in an unspecified location to replace Withybush, Prince Philip in Llanelli and Glangwili in Carmarthen, which would all close
Two options include keeping all hospitals open but with urgent care being centralised in either Glangwili or Withybush
The health board has issued a statement saying it is discussing, "rigorously testing" and narrowing down the options with doctors, nurses and wider staff groups and will be "open and honest" about its preferred option.
It said all propose "significant change" and a focus on transferring more hospital services into the community where appropriate.
"A fewer number of preferred options will be released publically in the spring, when the health board is confident they are viable, safe and an improvement on what is currently provided," it said.
Medical director Dr Philip Kloer said: "This is a once in a lifetime opportunity for our health service and community to work together to design an NHS which is fit for our generation and beyond.
"It has been acknowledged for some time across the UK that healthcare services are challenged like never before and we need significant change."
'Scattered communities'
He said they would be looking to the latest technology in "fit for purpose facilities".
The health board serves 384,000 people.
"A number of our services are fragile and dependent on significant numbers of temporary staff, which can lead to poorer quality care," said Dr Kloer.
"For us specifically in Hywel Dda, the geography we cover is large, with many scattered communities that are getting older, needing more holistic health and social care treatment and support."
Dr Kloer said they appreciated the attachment people had to their local hospitals but said it was "about more than the buildings".
He added: "This is about investing in our communities, attracting doctors, nurses and therapists by operating a modern healthcare system and keeping hospitals for those who really need hospital care."
Analysis by Owain Clarke, BBC Wales health correspondent
Whenever proposals are put forward about how health services are delivered there is almost inevitably an outcry.
People and communities are naturally protective of what they are familiar with and are worried that if services are moved further away from them, particularly in rural areas, they will be in further risk of harm.
However, the counter argument is that trying to maintain services as they are, when recruitment is already a serious issue, itself compromises patient safety. And remember, countless reports have said maintaining the status quo is no longer an option.
A previous reorganisation saw Prince Philip's accident and emergency unit replaced by a GP-led minor injuries unit.
There has also been a long-running discussion about pressures facing maternity services across west Wales.
Plaid Cymru's AM for Mid and West Wales, Simon Thomas, said: "Hywel Dda health bosses appear obsessed with service change and re-organisation rather than getting on with the job of running health services.
"It's only a few years since the last set of major changes, justified on the grounds of 'sustainability' and allegedly for the long term."
Preseli Pembrokeshire MP Stephen Crabb said he would work with his Conservative colleagues in the Assembly "to see these proposals ditched once and for all. But Withybush faces its toughest fight yet."