Child of mum killed in crash meets Prince Charles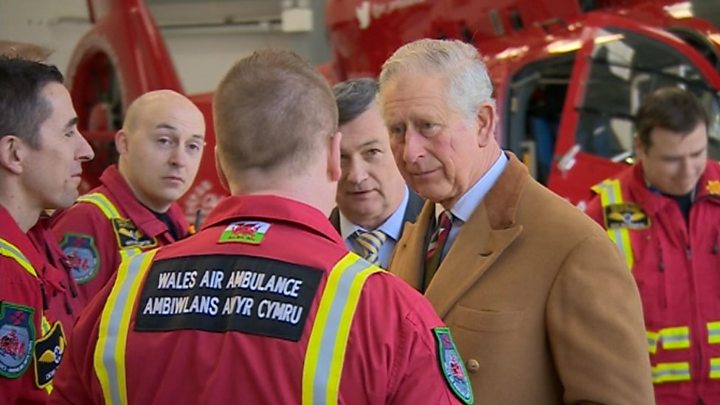 A three-year-old boy whose mother was killed in a car crash has given a gift to the Prince of Wales as he met the air ambulance service in south Wales.
Rebecca Evans, from Bridgend, and her unborn daughter died in the collision in November 2016.
Her son Cian met Prince Charles as he officially opened the Wales Air Ambulance base in Llanelli on Friday.
The prince also visited a children's hospice in Vale of Glamorgan.
Miss Evans, 27, was eight months pregnant when she died in the three-car crash on the M4 motorway near Port Talbot on 29 November 2016, on her way to work at a homeless charity.
Her partner Alex Evans had facial injuries and Cian was airlifted to hospital with two broken legs and a fractured skull.
Cian, who was aged two at the time of the accident, presented Prince Charles with a gift of local honey alongside transplant patient Curtis Thomas, four, as he formally opened the ambulance HQ.
Following the crash, Mr Evans said Cian "would not be here today" without the ambulance service.
He praised the singing of children from the Encore Stage School choir who were taught by Miss Evans and have raised thousands of pounds for Wales Air Ambulance in her memory.
Opening the base, Prince Charles told staff: "I think what you are doing is remarkable and as the father of an ex-air ambulance pilot, I have some vague understanding of what you all do and just what high professional standards you manage to achieve."
He also shared jokes with Bonnie Tyler and Max Boyce during his visit.
Earlier, the prince met staff, parents and children at the Ty Hafan children's hospice in Sully.
The prince is a patron of the charity.
He chatted and shared a joke with some of the youngsters and their families.
Speaking to one family, Prince Charles said: "I am so glad you have this place; it is remarkable."
The facility, run by one of the UK's leading paediatric palliative care charities, opened in 1999 and has since provided care to more than 600 youngsters from across Wales who are not expected to live to adulthood.