Storm Emma: NHS staff's 'heroic efforts' praised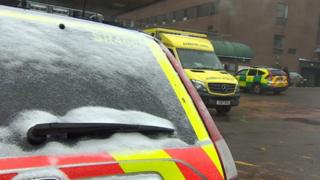 Hospital and ambulance staff have been praised for "heroic efforts" in maintaining services despite difficult weather conditions.
Some health boards had already taken the precaution of cancelling outpatient appointments and routine surgery.
Health Secretary Vaughan Gething said he was "humbled" to hear reports of the lengths NHS staff were going to.
The Welsh Ambulance Service asked people to think carefully before ringing 999.
"999 is for genuine emergencies only. Our staff and volunteers are making heroic efforts in hugely difficult circumstances, so please help preserve our precious resources for those in desperate need of help," it said.
Some staff stayed in hospitals overnight, arriving for shifts with overnight bags because of the difficulties others would have in travelling in.
Hospitals in Cardiff and Newport put out a call for staff with 4x4 vehicles to help colleagues get into work.
The ambulance service also called for staff and its own volunteers with 4x4s to help ferry staff to and from work across south Wales, particularly in Cardiff and Vale and across the valleys.
Louise Platt, assistant director of operations, said: "We've had an amazingly supportive response so far."
Mr Gething tweeted: "Thank you for your continued dedication and keep safe."
In Cardiff and Vale, all routine surgery had already been postponed for Friday; some urgent and cancer day cases would go ahead; outpatient appointments, except urgent ones, had been cancelled due to the deteriorating weather.
Plaid Cymru leader Leanne Wood made an appeal on Twitter for a 4x4 to help carers reach their clients in Cardiff.
Aneurin Bevan health board closed its minor injury unit at Ysbyty Aneurin Bevan in Ebbw Vale but said A&E in hospitals and the minor injuries unit in Ystrad Mynach were available if urgent.
Chief executive Judith Paget said: "So many staff stayed in our hospitals overnight, worked extra hours, walked long distances to see patients in the community, came to work on their day off, drove 4x4s through difficult road conditions to take staff home and bring others into work, and so much more."
You might also like
Hywel Dda health board postponed some Friday clinics in Pembrokeshire in "anticipation of continued adverse weather".
But planned care at hospitals in Aberystwyth, Carmarthen and Llanelli remained largely unaffected and was continuing as usual.
In the Cwm Taf health board area, all outpatient appointments and routine operations had already been cancelled for Friday. They will be re-arranged as soon as possible.
Abertawe Bro Morgannwg health board postponed all routine outpatient appointments. Radiotherapy, chemotherapy and renal dialysis appointments are unaffected. The health board was posting updates on its website but said all GP practices were offering at least an emergency service.
Princess of Wales hospital in Bridgend was the worst affected but a spokeswoman said staff had been "brilliant" and the duty cardiac team came in ready to stay overnight.
In north Wales, Betsi Cadwaladr health board said health managers had arranged for 4x4 transport to help get staff into work as well as identifying vulnerable patients in the community.
It had no plans to postpone routine operations or services, but was keeping capacity under review.
In Powys, some services were cancelled and patients were being contacted to let them know if their appointment would need to be rearranged.
The health board warned of a "challenging" weekend ahead but said staff were working hard to keep services running.