Storm Emma: Nurses 'charged to stay' claim denied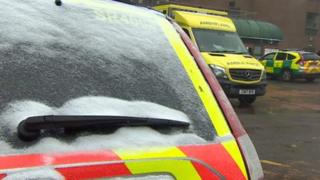 All health boards have denied a claim nurses were charged to stay in student accommodation during Storm Emma.
The allegations were made on social media by Leighton Jenkins, who is the assistant director of CBI Wales.
He posted the tweet to Health Secretary Vaughan Gething who has since pledged to investigate the allegations made.
The seven health boards have rejected any claim they were responsible and have praised staff for "going the extra mile" in extreme circumstances.
Mr Jenkins has been asked to comment.
Mr Gething told BBC Radio Wales his staff were examining the claims.
"NHS staff who have stayed overnight to try and make sure that their employer - the national health service - can continue to function the next day, I just don't think that should result in a charge to any of our staff who are doing that," he said.
"There is extraordinary public sympathy and support for our national health service as people have seen the extraordinary efforts being made to maintain a service for our most vulnerable citizens."
Mr Gething added he expected the situation "to be resolved".
"And for every part of the service to understand very clearly my expectation and to act in accordance with it." he said.
Mr Gething later responded on Twitter: "Investigations are continuing, but I'm assured any staff that have accrued costs will be reimbursed."
Vanessa Young, director of the Welsh NHS Confederation, which represents all the Welsh health boards, said the claims needed to be examined.
"We would want to ensure that if staff are coming in to help with the situation that we are facing at the moment, that they wouldn't be incurring additional cost," she said.
"It may be to do with the fact that they need to pay in advance and then claim it back from their health board."
She praised the work of Welsh staff over the last few days, adding: "They really have pulled out all the stops".
Tina Donnelly, director of the Royal College of Nursing in Wales, said none of the information had been "validated".
She added: "From our perspective, it's absolutely unacceptable if it is true. I'm meeting the minister and it will be top of the agenda to have a conversation about it.