Laura Stuart death: Man 'sent murder confession text'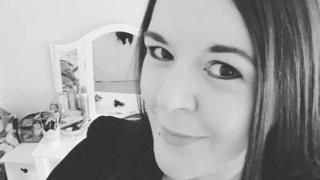 A man who stabbed his former partner with a kitchen knife sent a text to a friend saying "I have just murdered Laura", a jury has been told.
Jason Cooper, 28, is also accused of stabbing a man who went to Laura Stuart's aid as she returned home from a night out, Mold Crown Court heard.
Mr Cooper, of Denbigh, told police: "She thought she was going to leave me in the lurch... not on my watch."
He denies murder and wounding with intent to cause grievous bodily harm.
The court heard Mr Cooper had lain in wait for Ms Stuart before the attacks on 12 August last year and had appeared calm after stabbing her and David Roberts.
Ms Stuart died in hospital two days after the attacks
David Elias, for the prosecution, told the jury Mr Cooper had made several admissions to police officers after they arrived at the scene of the attacks in Denbigh town centre.
They included: "It is not one of those psychopathic things where you go nuts for no reason.
"There is a reason for it. She thought she was going to live her life and leave me in the lurch and she would be as happy as Larry... do as she likes. Not on my watch."
The court heard Mr Cooper also sent a number of messages to Ms Stuart, 33, in the run up to the stabbings, saying he was "very, very angry" and "did you honestly think you would... walk away happy?"
The jury was told the pair were in separate pubs but Mr Cooper had gone home where he had taken a knife before returning to search for Ms Stuart.
He also sent threatening messages to her over a man he thought she had been involved with, Mr Elias said.
One message read: "Is he willing to die?"
Ms Stuart sent him messages saying he was drunk and asking him to stop but he replied denying he was drunk, adding: "My mind is made up."
Mr Elias said Mr Cooper "lunged" at Ms Stuart after she left the pub with David Roberts and his father Gareth Roberts, "striking her with the knife... to the head, back and chest".
'I lost my mind'
Mr Elias said David Roberts tried to stop the attack but Mr Cooper stabbed him in the elbow, shoulder and ear.
The court heard Mr Cooper kicked Ms Stuart in her face and stomach while she was on the ground, fracturing her nose and cheekbone.
He left the scene but later returned.
CCTV and police body cam footage showing Mr Cooper's movements that night were played to the jury, which also showed Ms Stuart identifying him to police as her assailant.
Police bodycams recorded him saying: "I lost my mind, lost my job, lost my... missus, lost my house, lost my mind, simple as that."
Mr Elias told the court: "As he had painstakingly threatened in many messages to Laura Stuart and others, he hunted her down in the street and killed her."
The trial is continuing and is expected to last about two weeks.