'More ambition' urged for Welsh innovation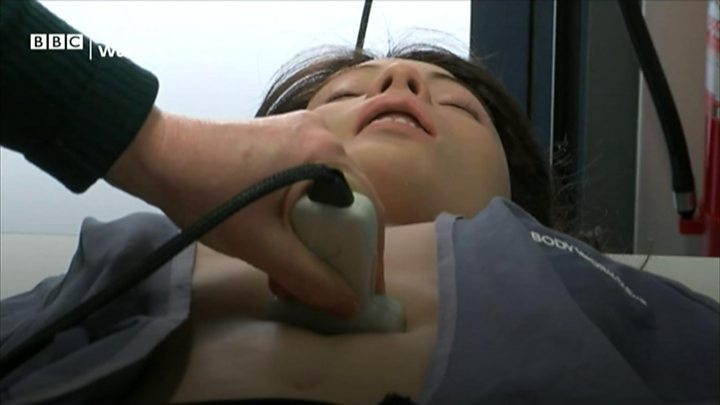 Meet Eve. She looks and feels like a patient, but she's in fact a very lifelike dummy, created by a film and TV props company to help a Cardiff tech firm develop cutting edge ultrasound technology.
MedaPhor in Cardiff will be using Eve - and more like her - to train in using the next generation in scanners.
The hope is that one day GPs and specialist nurses might be able to use ultrasound in surgeries to help detect problems earlier rather than having to refer patients to hospital instead.
Nick Sleep, chief technology officer at MedaPhor, said: "We're trying to revolutionise ultrasound. There are 50m doctors but only 2% can use ultrasound and we'd like that to be higher.
"We're trying to teach experts how to use ultrasound better and more quickly. We're also trying to make the machines easier to use, so more people can use them."
Wales is doing well at developing technologies in the medical field, like this.
But Innovate UK - the UK government agency tasked with supporting new technologies to boost the economy - thinks we could do more.
Dr Ruth McKernan, chief executive of Innovate UK, said: "Wales is very good at some things, I think it could be more ambitious."
The agency has committed more than £1.8bn since 2007, matched by other partners and businesses, to 8,000 organisations. It claims to have helped create 70,000 jobs.
But only £8.4m out of a funding pot of £294.5m went to Wales in 2016/17 - half the amount that went to either the East Midlands or Yorkshire and Humberside.
Dr McKernan added: "Our data says that only 3% of applications to Innovate UK comes from Wales, and I believe there are a lot more innovative and creative small companies, academics wanting to move into business in Wales, than is represented.
"What needs to happen is for supply chains, clusters of businesses to work together and ask themselves, where can we be industry-leading?"
Wales has the lowest level of productivity of all the nations and regions of the UK. That should matter not just to businesses but to all of us.
The value of what we produce for every hour we work in Wales is only 83% of the average produced in an average working hour in the UK.
That then affects the level of wages paid in Wales. Middle earners in the UK get £550 a week whereas in Wales, that level is £498 a week.
The views from the head of Innovate UK come as a taskforce of Welsh academics and business leaders warns in a report that Wales faces "daunting challenges" after Brexit.
The report says it is time for industry to do more to tap into the research and innovation taking place in universities.
It wants a "new compact" between government, universities, businesses and other key stakeholders, as well as a "permanent funding stream" to support work between higher education and companies.
Chaired by Dr Drew Nelson, chief executive of semiconductor company IQE and Cardiff University vice chancellor Prof Colin Riordan, the taskforce calls for for innovation growth hubs to support and promote business "hot-spots" which will maximise the value to the Welsh economy.
Prof Riordan said government, businesses and universities need to work together in a more open way - and not just at later stages when plans were already developed.
Dr McKernan points to TrakCel, another Cardiff firm in the health tech sector, as an example of the way forward.
This software developer for the cell and gene therapy supply chain began in 2012 and in January was part of a consortium which was awarded £1.4m in Innovate UK funding.
The research project aims to take to market a cell therapy to stimulate the growth of new vessels to restore blood supply to the limbs.
The company, which also has an off-shoot in the United States, aims to employ more than 100 people by next year.
Ravi Nalliah, TrakCel chief executive said: "Wales has a wealth of resources at its disposal, with leading universities producing high calibre graduates to fuel its knowledge economy.
"However, know-how and research needs to be interwoven with entrepreneurial spirit. Wales needs to provide an environment for risk-takers to flourish."
He wants Wales to develop strategies to build businesses around its universities' research and development.
Mr Nalliah said also that local investment options at the early stages were limited.
Another is Specific in Swansea, which uses new technologies to develop "buildings-as-power generators" - schools, offices and housing which are built in such a way that the materials can generate energy.
Dr McKernan said Wales is already attracting 17.5% of funding for semi-conductors but it now "needs to really think" about what excels at so it can pool knowledge and apply for millions of pounds in funding which will be becoming available.