'Underfunding crisis' for charities as data hub launched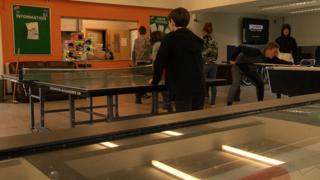 Charities and voluntary organisations are working with "one hand tied behind their backs" due to chronic underfunding, it is claimed.
The Wales Council for Voluntary Action (WCVA) wants the "crisis" tackled before the sector is weakened.
Figures for 2014/15 show income per head in the so-called third sector in Wales was half of the total UK-wide.
The figures are recorded in a new data hub launching on Thursday which puts the sector under the microscope.
It is being unveiled at the Gofod3 conference in Cardiff, where representatives from charities, voluntary organisations and social enterprises are coming together.
Over-16 volunteers
They carry out a wide variety of work, from providing youth clubs for youngsters to social clubs and transport schemes for the elderly.
In total there are 32,000 third sector organisations in Wales, responsible for 10% of employment, with 25% of over-16s volunteering.
They operate with half the income per head of the UK sector as a whole - £353 in Wales compared with £704 across the UK annually.
This amounts to £1bn being spent in Wales out of £45bn UK-wide.
Welsh Government funding to the sector also reduced by 30%, from £350m to £248m between 2010/11 and 2015/16.
WCVA chief executive Ruth Marks described the third sector in Wales as "the backbone keeping upright many of our communities".
"Minor miracles in education, health, leisure and more are performed daily by small, local charities, tiny social enterprises and thousands of volunteers in Wales," she said.
"Their contribution is extraordinary and all the more impressive considering their woeful budgets.
"There is no denying that the third sector in Wales is operating with one hand tied behind its back."
Ms Marks added that a "post-Brexit world without EU funding" was among challenges facing the sector.