Bottle deposit: Recycling the idea of the Pop Man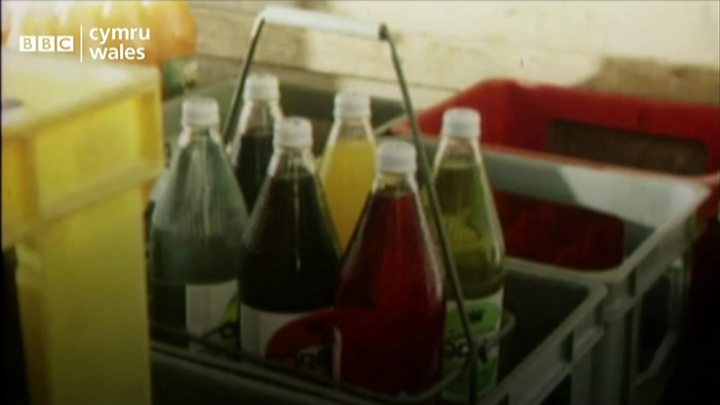 There's no recycling like the recycling of ideas.
A push by UK Environment Secretary Michael Gove to help build a greener future with a financial incentive for people to return bottles and cans bears a striking similarity to a money-making concept enjoyed by hundreds of Welsh school children in times gone by.
Under the new plan, shoppers will be able to avoid a new levy on single-use cans and bottles if they return them for recycling… sounding familiar?
Not so very long ago, generations of Welsh children would hurriedly gather up their empty glass bottles when they heard the clink of the Corona Pop Man's van… (or even his horse-and-cart, for those with longer memories).
In the 1920s each empty yielded a ha'penny, but by the 1980s it had risen to the princely sum of 10p.
As Jason Hughes recalls, growing up in Caernarfon, north Wales in the 1970s, those deposits soon added up.
"The pop man was a God-send. If you'd blown your pocket money, or if you'd been naughty, you could always hunt around the house for some empties.
"I think it took five or six of them to have enough for a full one, which you'd have to down before your mum got home, then hide the bottle under your bed for the next time."
As with so much in Wales, the idea of door-to-door pop deliveries was tied up with the late 19th Century Temperance movement.
South Wales valleys-based Corona, along with dozens of similar soft drink brands, were created as a rival to beer, in order to slake the thirst of miners after a shift underground.
While they failed to prove a panacea for drunkenness, they were a massive hit in their own right; so much so that by 1934 Corona spread out opening further factories in Pengam, Maesteg and Bridgend, with over 200 delivery drivers serving the whole of south Wales.
However, with the introduction of plastic bottles and customers preferring to shop in supermarkets, Corona's Porth plant closed in 1987, to be transformed into - fittingly enough - The Pop Factory.
In west Wales however, Tovali kept up the tradition until 2001, but they too were forced to bow to the modern trends.
They now manufacture squash and cordials for the retail sector, and managing director Eurwyn Harris is sceptical about any attempts to turn back the clock.
"Don't get me wrong, I loved the face-to-face contact we had from collecting customers bottles, but we couldn't do that again," he said.
"We had a washery cleaning 5,000 bottles a week in the 1970s, but all that's gone now because we were told plastic was the future."
He added: "The levy is a great idea in theory, but how is it going to work? We don't have a plastic recycling plant, so who's going to collect the empties, and where are they supposed to take them?
"I think it would be far better if the money they collect was spent on educating households about reducing conspicuous usage, and increasing the amount local authorities recycle."