False alarms are 41% of fire service call outs in Wales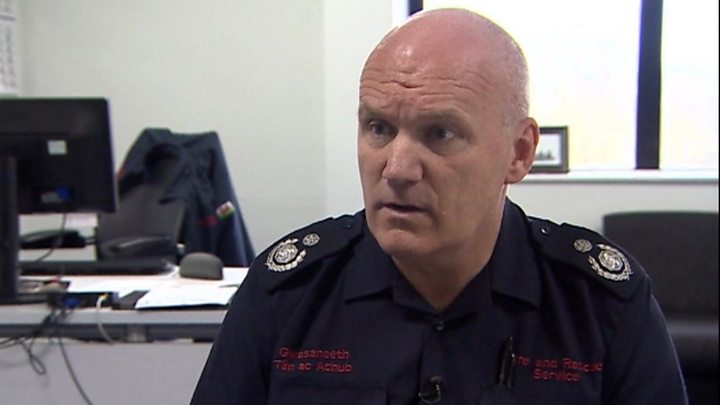 Firefighters in Wales attended more false alarms than any other type of incident in the past five years, wasting crews' time and costing millions of pounds.
In 2016-17, 41% of the 37,217 calls were to false alarms, compared with 29% fires and 30% "special" incidents.
On average, crews are tied up for 23 minutes, costing up to £300 per engine.
It comes as the overall number of calls to services in Wales has continued to fall in the past 10 years.
Last year, crews across Wales attended 10,751 fires, 11,248 "special incidents" such as car crashes and animal rescues, but the highest number of call-outs - 15,218 - was to false alarms.
The majority were due to automatic fire alarms being triggered in homes, as well as public buildings such as hospitals, schools, student halls of residence and care homes.
But a small number - just 5% in the south Wales area - were malicious.
The latest Welsh Government report on false alarms, published in June 2015, found that while the total number of incidents attended in the 10 years previous had fallen by 28%, the number of false alarms had only dropped by 13%.
It said responding to them was a "wholly unproductive activity", which costs about £3m a year in Wales, and diverted crews from genuine incidents.
The report also said they cost businesses £29m a year in lost production time and said urgent action was needed to tackle the issue.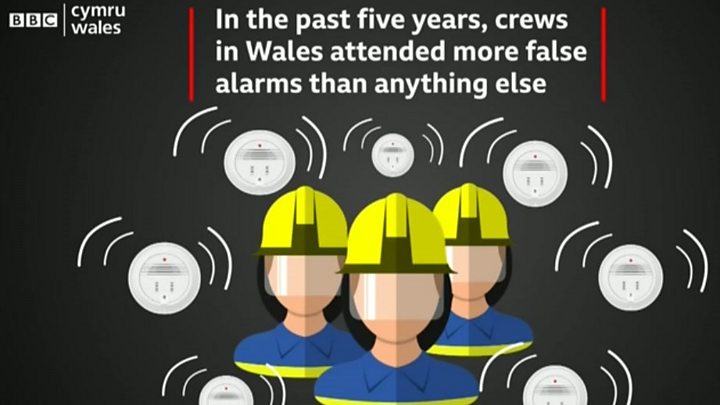 South Wales Fire and Rescue Service (SWFRS), which attended the most false alarms - 47% of all its calls, said they presented unnecessary risk to firefighters and the public when responding under emergency conditions.
It said they could put lives at risk by delaying crews getting to genuine incidents and put an avoidable financial burden on the service.
Some fire services in England recoup the cost of attending false alarms from repeat offenders, but the Welsh services do not.
Andrew Thomas, assistant chief fire officer for SWFRS, said while that might act as a deterrent for some, it would not tackle the root of issue.
He said: "Even if we did go down that track of charging like some fire and rescue services have done in other parts of the country, that's not solving the problem.
"What we need to do is to understand how to reduce the number of alarms being generated and once you've done that, that stops us being called."
Mid and West Fire and Rescue Service - the only service whose false alarm numbers were lower than other call-outs - said relocating fire alarm equipment and raising awareness with building occupants could help reduce their frequency.
In 2016, North Wales Fire and Rescue Service stopped responding to automatic fire alarms at commercial buildings, unless they also had a 999 call or the premises was high risk.
As a result, its false alarm attendances have reduced by over half and, in that time, there has never been an instance of fire crews refusing to respond to what turned out to be a genuine fire.
A Welsh Government spokesman said: "Responding to false alarms wastes significant fire service resources and prevents crews from attending genuine incidents and carrying out vital safety work.
"While ultimate responsibility rests with owners of buildings that generate false alarms, the service should take action to reduce attendance too."