Wrexham 120mph speeding driver was 'desperate for loo'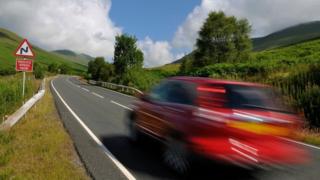 A man caught doing 120mph in a 70mph area told a court he was speeding because he desperately needed the toilet.
Nicholas Simon Westwood, 47, was stopped by police on a dual carriageway in Wrexham on Wednesday.
Prosecutor Brian Robinson said an officer saw a red VW Golf travelling at speed.
Westwood, from Sutton Coldfield in the West Midlands, was banned from driving for 28 days and fined £675.
Mold Magistrates' Court heard Westwood told the officer: "I've got some issues.
"I'm extremely desperate for the toilet. I was in an accident a few years ago, I have muscle damage so when I need the toilet, I need to go."
After being stopped the officer allowed him to open front and rear doors of the police car so that he could relieve himself without being seen.
Westwood, of Caversham Place, told the court he had nerve damage to his hip.
He said he normally carried a "wee bottle" in the car but had his 11-year-old daughter with him and felt it was inappropriate to use it in front of her.
Westwood apologised to magistrates, who said the "exceptionally high" speed he was travelling at and the fact a child was in the car with him aggravated the situation.