'Victim' shop worker Michelle Williams jailed for robbery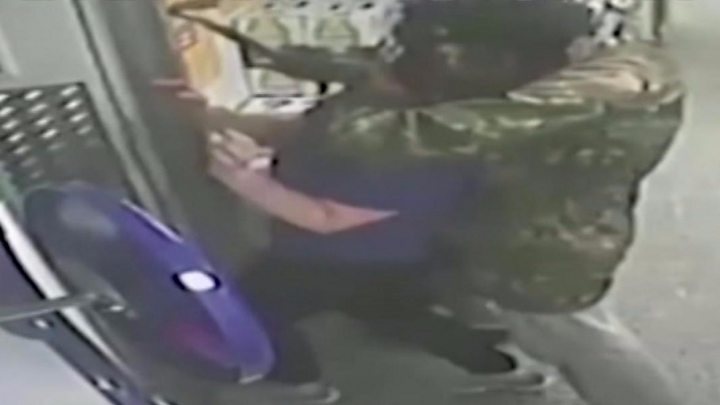 A shop worker who pretended to be the victim of a robbery she helped organise has been jailed for four-and-a-half years.
Michelle Williams, 34, of Blaina, Blaenau Gwent, was seen on CCTV being overpowered by a crowbar-wielding robber and forced to hand over cash.
Cardiff Crown Court heard police initially believed her version of events at the One Stop in Usk, Monmouthshire, in February 2017.
Williams pleaded guilty to robbery.
James Wilson, prosecuting, told the court Williams was dropped off at the shop by her partner Benjamin Bailey, 37, at 05:50 GMT.
Her colleague Beverly Davies, who was not involved in the plot, arrived shortly afterwards.
Concealed in Bailey's vehicle was a teenager disguised in a hat and camouflage jacket, armed with a 3ft crowbar and a knife.
Mr Wilson said the teenager, who cannot be named for legal reasons, was 15 at the time when he carried out the robbery, appearing to force Williams to open the safe.
'Very convincing' violence
The youth took more than £2,700 in cash - which was later shared between the conspirators - and was picked up by Bailey.
Judge Neil Bidder, QC, told him: "You used actual force on Ms Williams to add reality to the robbery.
"Beverly Davies was terrified both by the weapons, which included a knife, and the violence which was a pretence but was very convincing, on Williams."
Williams, Bailey and the unnamed youth admitted robbery at an earlier hearing, with Williams saying her relationship with Bailey involved Class A drugs while the youth had come from an "unstable background".
Bailey was jailed for six years and the teenager was sentenced to an 18-month detention and training order.