Walk to raise water safety awareness among pet owners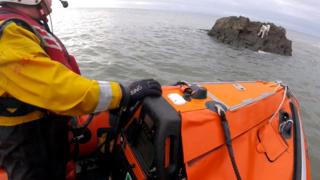 A dog owner whose pet was rescued after becoming stranded at sea will lead a walk aimed at raising awareness about water safety.
Lisa Fabb's pet Charlie, was stranded off Langland Bay in Swansea last year.
In the five years up to 2016, there were 105 rescues involving dogs and 635 for people who had been walking or running around Wales.
On Sunday people have been asked to bring their pets to Aberavon beach, Port Talbot for a "Welly Walkies" day.
Members from RNLI and Vets4Pets will offer water safety advice and go on a 3km (1.8 mile) walk on the beach which will create the shape of a welly boot.
"Charlie loves the water and always goes in the sea for a dip when we go for walks along the local beaches," Ms Fabb said.
"Whilst our backs were turned, Charlie swam right out to sea. No matter how much we shouted and called his name, he just kept swimming further and further out.
"As Langland beach is in a cove, we ran out to the furthest point to get closer to Charlie. He managed to climb out onto a rock as we called him, but was still stranded out to sea, clearly exhausted.
"I was panicking and debating whether to go into the water to retrieve him, but my husband had read a few rescue stories recently and remembered to not jump in the water after dogs, as this only increases the jeopardy of the rescue.
"Someone on the beach called the Coastguard who advised us to wait as they sent out the cliff rescue and RNLI Mumbles team."
While that rescue ended well, more than 200 walkers have died since 2011 around the UK coast and many were walking dogs, according to the RNLI.
The RNLI's community safety partner Chris Cousens said: "While we will always answer the call for help, myself and everyone within the RNLI would like to see people thinking more about their safety before and during their visit to water and the coast.
"We would not encourage people to enter water to save pets. More often than not, the person themselves can get into danger, further escalating the jeopardy and the need for a rescue."