Milford Haven: New waterfront plan 'to create 700 jobs'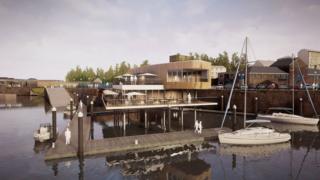 A revised plan for the multi-million pound redevelopment of Milford Haven Waterfront has been submitted to Pembrokeshire County Council.
A mix of shops, bars, cafes, hotels, restaurants, business units, and up to 190 flats and townhouses is planned.
It will also include up to 70 additional marina berths and replacement boat yards.
The port received outline planning permission in 2015 and has since been working on the final details.
The previous plans focused on shopping but "as a result of market changes" the development will focus on leisure. Instead of a supermarket they have planned for a large indoor facility which will be open all year round.
The Port of Milford Haven claims its project will create over 700 jobs during construction and operation.
Work has already started on site for a new coffee house drive-thru at the waterfront.
Four floating cabins for holiday lets will be ready for use on the marina later this year with terraces overlooking the water.
Neil Jenkins, development director at the Port of Milford Haven, said: "We have worked hard on fine-tuning the plans over the past couple of years to ensure they are in line with market trends."