Sir Terry Matthews' Canada based firm Mitel sold in $2bn deal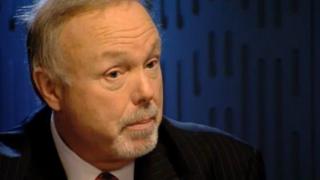 A company co-founded by one of Wales' richest men is to be sold for $2bn (£1.43bn).
Sir Terry Matthews is co-founder and chairman of Canada-based communications company Mitel, which is being bought by global investment firm Searchlight.
He is owner of the Celtic Manor Resort in Newport, and is one of five Welsh billionaires with a total worth of £1.17bn.
The company was co-founded by Sir Terry in 1972.
Mitel provides a range of "unified communications products" - systems that integrate different methods of communication at work such as phone, email, instant messenger, or video conferencing - to businesses around the world.
In a statement company chairman Sir Terry said: "We believe this transaction will provide Mitel with additional flexibility as a private company to pursue the company's move-to-the-cloud strategy."
Rich McBee, chief executive of Mitel, said the deal would form part of the company's continued transformation plans.
Sir Terry is in the fourth position of the top 10 richest people in Wales on this year's Sunday Times Rich List.
Newport-born Sir Terry was previously the richest man in Wales until 2012.
His fortune has been eclipsed by Sir Michael Moritz who tops the list with a £2.6bn fortune which he shares with his wife Harriet Heyman.