Vegan menu 'should be offered at schools and hospitals'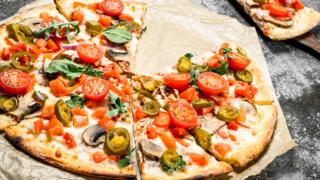 More vegan food should be on offer in Welsh schools and hospitals, according to a group that promotes veganism.
The Vegan Society wants the Welsh Government to increase vegan food choice in all public sector canteens to accommodate the growing numbers who are switching to a plant-based diet.
The charity estimates there are about 500,000 vegans in the UK and says figures are rising.
But a paediatric dietician is concerned it could affect children's growth.
Dominika Piasecka, a spokeswoman for the Vegan Society, said: "By public sector canteens we mean places like hospitals, schools, prisons, universities, workplaces etc. Basically anywhere where you go not out of choice but because you have to eat.
"If there is no vegan option in places like that, it's a problem as there isn't always a good alternative."
You might be interested in these stories too:
The hassles and highs of going vegan
What would happen if we all went vegan
Pigs back in school despite vegan complaint
The success of campaigns like Veganuary, where participants sign up to go Vegan for January, has boosted awareness of a vegan diet.
This year 168,500 people across the UK took part - three times as many as in 2017. Cardiff made it into the top 20 of UK cities, in 11th place, with 860 people signing up.
'So much choice'
Charlotte Berry, who runs a vegan shop in Swansea Market, puts the trend down to it being easier than ever to avoid meat and dairy.
"Convenience products have seen the biggest rise," she said.
"It used to be snacks were hard to find as a vegan, but now there's so much choice and I think that's driving the trend towards more people switching.
"All the supermarkets are offering more vegan products and social media has made it easier than ever to give people ideas for recipes and nutrition advice."
Verdi's Ice cream parlour in Swansea is one of many restaurants to respond to the growing food trend, having launched a vegan ice cream last month.
"We tried making vegan ice cream 24 years ago," says Matteo Moruzzi, who uses soya milk instead of cream.
"No-one was interested then, but the market has definitely changed. This time we had hundreds of shares on Facebook and loads of people were coming in wanting to try it."
'Easy to be healthy'
In 2017, the Office for National Statistics reported that for the first time non-dairy milk had made it into the consumer price inflation basket, which reflects buying habits.
Health benefits, climate change and animal welfare are all factors behind people making the shift, and it's spawning a growing number of business opportunities.
Ky Wright from Tenby has just raised £80,000 on the crowd funding site Kickstarter to produce an organic food supplement bar called "Human Food".
It is aimed at those on a plant-based diet who want to ensure they get all the nutrients they need.
But paediatric dietician, Ana-Kristina Skrapac, said she was concerned offering vegan options on a menu for children could be seen to promote a diet, which can cause growth and health problems for some children, if not monitored by a doctor.
'Concern'
She said: "If these things are not monitored then they can have devastating effects on the children's growth and maturation and development.
"And we do see that in clinical practices - things such as children presenting with rickets or anaemia - and if we can catch it early, we can reverse it.
"But certainly the concern would be if these diets are implicated in a wide sense that is not monitored by a qualified professional, then these risks are very real and, if not discovered, can have quite devastating effects to the child."