Thefts mar Cardiff disabled group's Brecon Beacons day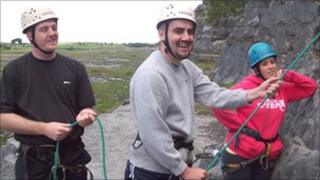 Wedding rings and a wallet were stolen from disabled people as they learned to abseil in the Brecon Beacons.
The men from the brain injury charity Headway Cardiff were watching a demonstration when four of their bags were taken from the top of a cliff.
The charity said the group were too upset to finish their day's activities on Sunday, 12 September at Morlais Quarry.
Two boys on motorbikes were seen in the area at the time, said the charity.
The men were learning to abseil with the Storey Arms Activity Centre, near Brecon, Powys.
Headway Cardiff said the group were gathered at the bottom of the cliff for a safety demonstration, while the bags were stacked at the top. The theft was discovered later.
The charity said while the theft of mobile phones and a wallet was inconvenient, they could be replaced, but the wedding rings were of "little monetary value, but were of significant sentimental value".
Tim Banks of Headway Cardiff said: "The guys were so upset by the whole event that they felt unable to complete the rest of the day's activities.
"It really put a dampener on what was otherwise a fantastic weekend.
"The group gain a lot of confidence and self-esteem from taking part in the activities provided and can well do without the stress and anxiety that this sort of mindless theft creates."