Language group anger over Aberystwyth University head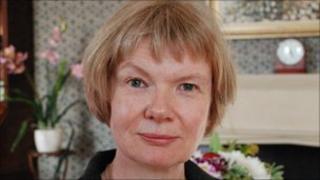 A Welsh language campaign group has objected to the appointment of a non-Welsh speaking vice-chancellor of Aberystwyth University.
Prof April McMahon, who speaks French and German and some Scottish Gaelic, and is a vice-principal at Edinburgh University, has pledged to learn Welsh.
The Welsh Language Society said fluent Welsh-speaking vice-chancellors were essential.
Prof McMahon will succeed Prof Noel Lloyd on 1 August.
Prof McMahon's appointment to Aberystwyth, which has a high level of Welsh speakers, comes after another university, Bangor, controversially appointed a non-Welsh speaking vice-chancellor last year.
Aberystwyth's new vice-chancellor has a history of working in and leading linguistic departments.
For 12 years she taught at the department of linguistics at Cambridge University, where she was also a Fellow of Selwyn College, and was professor of English language and linguistics at the University of Sheffield from 2000 until 2004.
In 2005, she moved to Edinburgh University as Forbes professor of English language and head of the department of linguistics and English language.
But the Welsh Language Society's education spokesman Ffred Ffransis said Aberystwyth University was failing to meet the needs of the local community.
He said: "It must be April Fool's Day today. Unfortunately, universities more than ever before, in Bangor as well as Aberystwyth, are trying to compete in a market instead of concentrating on providing education that meets the need of the local community and Wales as a whole.
"We want to see these institutions, especially Aberystwyth and Bangor, administrate internally through the medium of Welsh - that should be the test of any language policy. With that as the aim, fluent Welsh-speaking vice-chancellors are essential, and then problems like this wouldn't arise."
Her talent for languages and her background in linguistics has impressed the society's former chair Menna Machreth, but she said being able to speak Welsh was vital in such an important role.
She said: "She (Prof McMahon) has good credentials, but Aberystwyth being in a Welsh language area, it's important to have some one with Welsh-speaking skills.
"Aberystwyth University has made a mockery of its Welsh language scheme."
Prof McMahon said she was delighted "with the prospect of leading Aberystwyth University and she looked forward "to working positively within a bilingual environment and to living and working in such a culturally vibrant part of Wales".
She added: "This is a time of challenges and opportunities for universities and I look forward to working with staff and students to take the University into the next stage of its development."
University president Sir Emyr Jones Parry, the UK's former ambassador to the United Nations, said: "Universities face a period of unprecedented change and I am particularly pleased that Aberystwyth has been able to attract a new leader of the calibre of Prof McMahon."
But the Welsh language students union, Undeb Myfyrwyr Cymraeg Aberystwyth (UMCA), said it was "disappointed" the new vice-chancellor was not a Welsh speaker.
However, another student body, Aberystwyth Guild of Students, welcomed the appointment.