Warning after fine over Powys stream pollution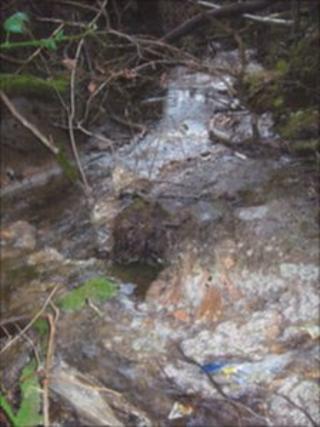 Landfill site owners have been warned to protect the environment after a firm was ordered to pay more than £80,000 for polluting a Powys stream.
Sundorne Products was convicted of two charges of polluting Nant-Y-Bradnant near its Llanidloes landfill site, said the Environment Agency.
The agency said the firm was also convicted of two charges of exceeding emissions and failing to report it.
Sundorne Products said after the hearing it was considering appealing.
The Environment Agency said the company, which runs Bryn Posteg landfill site at Twylch, near Llanidloes, was convicted following a four-day trial in December last year, and was sentenced on Monday.
It said two charges related to offences of polluting Nant-Y-Bradnant - one by surface and one by ground water. The stream is a tributary of the River Severn.
The agency said the firm was also found guilty of failing to comply with an environmental permit and of "exceeding permitted ammoniacal nitrogen emissions", and failing to report the emissions. This, said the agency, resulted in a pollution incident.
Sundorne Products was ordered to pay a total of £83,722.03 at Brecon Magistrates' Court.
The company was fined £37,500 for three charges and there was no separate penalty for the fourth.
It was also ordered to pay prosecution costs of £46,207.03 and a £15 victim surcharge.
Following the court hearing, Paul Williams of the Environment Agency said: "The severe penalty imposed by the court on this company reflects the seriousness of the offence.
"I hope this will act as a warning to others that they must comply with the conditions in their environmental permit in order to protect the environment. Where we have evidence of a breach we will not hesitate to prosecute if circumstances warrant it."
The environmental permit was designed to protect the local environment, but Sundorne Products was found to have polluted a stream in 2008.
During a site visit by officers, on 29 January 2008, evidence was seen of system failures on site.
The agency said it had given approval for the company to install a reed bed system to treat surface water, which would minimise the risk of further pollution incidents.
Contacted by BBC Wales after the case, the owner of Sundorne Products, James Potter, said only that he was considering appealing against the conviction.