Newtown residents welcome housing plan rejection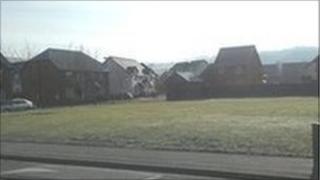 Newtown residents are celebrating a decision to reject plans to build houses on the last open space on Powys' largest housing estate.
Mid Wales Housing Association (MWHA) had proposed to build six houses at the town's 500-house Vaynor estate.
But Powys Council's planning committee decided to refuse the application on four counts.
The town's mayor now hopes the space will be used to develop a community centre.
Mayor, Joy Jones, who lives on the Vaynor estate, said: "This is a victory for the residents of the estate and shows that if you stand up for what's right then sometimes you win.
"I now want to start talks with different organisations to try and get funding to build a community hub or community centre on the site."
Planners decided to reject the planning application because building six houses would have meant that virtually the entire site would have been hard-surfaced.
A report by Lesley Kirkpatrick, the council's head of regeneration and development said the proposal would have developed the last non-flooding open space on the estate.
She recommended refusal of the project on the grounds of over development, parking, drainage, and loss of amenity.
Shane Perkins, chief executive of MWHA said: "We will now move on and discuss the possible development of a community facility with the local community."