Welshpool air show to go ahead after cuts fears allayed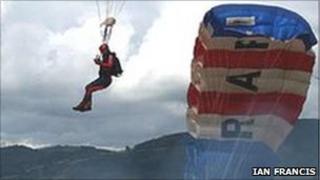 Fears that a popular Mid Wales air show would be cancelled this year because of cuts in military spending have been allayed.
Welshpool Air Show will go ahead with the RAF Red Arrows aerobatic display team opening the show.
The decision follows a make-or-break meeting between air show organisers Welshpool Town Council and the RAF to discuss the event's future.
The show held at Welshpool airport will take place on Sunday 12 June 2011.
'shrewd move'
"Welshpool Town Council has hit the jackpot in getting the Reds in the current economic climate", said Albie Fox the RAF's Community Relations Officer for Wales.
"Their attendance has been possible due to the Welshpool Town Council event being on the same day as Cosford's Air Day.
"Choosing to have their airshow on the same date as the Cosford Air Day was a shrewd move.
"This has ensured a minimal cost in participation for the RAF and ensured a favourable response to the bid."
The only hurdle is the site recce to ensure the Red Arrows can perform in the area safely.
The team is due to open the show in the morning betwween 1000 GMT to 1030 GMT.
Because RAF Cosford have their Air Day on the same date there may be an opportunity for other aircraft partaking at Cosford to make a flyby of Welshpool en-route.
Welshpool Town Council's clerk, Robert Robinson, said: "We are grateful to the RAF for their support in the past and for their generous gesture this year.
"The participation of the Red Arrows will ensure that our Airshow will be a day to remember for all those who attend.
More than 3,000 people attended last year's air show at Welshpool airport.