Wayne Fox: Indeterminate term for Tirion Lewis attack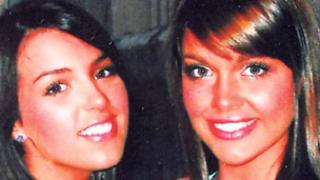 A man who kidnapped and "savagely" assaulted his girlfriend, leaving her in a coma, will be detained in a secure mental unit for at least eight years.
Wayne Fox, 23, from near Aberystwyth, was convicted of grievous bodily harm with intent for the attack on Tirion Lewis, 19.
Her best friend Miriam Evans was also attacked.
Passing an indeterminate sentence at Swansea, the judge said there was no guarantee Fox would ever be free.
Fox also admitted aggravated vehicle taking, actual bodily harm, and dangerous driving at the city's crown court.
The court heard that 18 months after the attack, Ms Lewis, a student, was still suffering from problems with her memory and attention.
After he was found guilty on 4 March, Ms Lewis's family released a disturbing image of her lying in hospital.
The families welcomed the conviction but said they were still affected "emotionally".
Sentencing Fox, Judge John Diehl QC said Ms Lewis could have died had not Miss Evans "pluckily" sought help.
He said: "Tirion had been left for dead. By the grace of God she was saved by the efforts of the emergency services. None of that could have happened without Miriam Evans pluckily searching for help."
Friday's hearing was largely taken up with the state of Fox's mental health.
Dr Roger Thomas, from the Caswell Clinic, near Bridgend, where Fox is being held, said he suffered from "command hallucinations," and on the night of the attack heard voices telling him to hurt Ms Lewis.
The condition was so serious that Fox was being treated with clozapine, a drug so strong that it could kill him unless administered expertly, the court heard.
Dr Thomas said prison medical wings were not considered to be hospitals under the Mental Health Act, which was one of the main reasons why Fox could not be sent to one.
A jail sentence might cause a relapse in Fox's condition and he could become a danger to others, the court was told.
Fox sat flanked by four mental health workers as Dr Thomas explained that the violent outburst was directly linked to his mental disorder.
Judge Diehl said Fox had been convicted of causing grievous bodily harm in 2003 and assault causing actual bodily harm in 2005, both occasions in Aberystwyth, when the question of mental illness had not been raised.
Dr Thomas said Fox was a "classic schizophrenic" and had not caused the illness himself by taking excessive drugs or alcohol. He had been in the care of the Caswell Clinic for more than 18 months and had made some progress.
Ms Lewis had been listening to music with Ms Evans in her Ford Ka outside her family home, near Aberystwyth, on 2 September, 2009 when Fox stormed up to the car.
'Worst nightmare'
He smashed his bare fist through the window before driving her and Ms Evans, 19, to forestry where he launched a "savage" attack on the pair.
Outside, Ms Lewis's father Dilwyn Lewis said she was recovering after the attack.
He paid tribute to Ms Evans' bravery in helping her friend and said the ordeal had been a "horrific nightmare".
"It's any parent's worst nightmare. You know, we all worry about our children. They grow up and they go out on a Saturday night but for something like this to happen is a real nightmare. But she's with us."