Llanarth writer up for Ted Hughes poetry award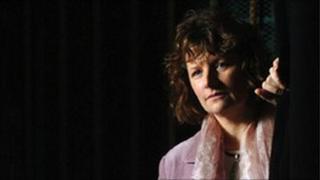 A Ceredigion-based writer is in line for a major poetry prize backed by the poet laureate.
Kaite O'Reilly from Llanarth is one of five authors shortlisted for the 2010 Ted Hughes Award for new work in poetry.
She has been nominated for her new version of Aeschylus' tragic play The Persians, staged at a military base in the Brecon Beacons last year.
The winner of the £5,000 award will be announced on Thursday 24 March 2011.
"It is an incredible honour for me to be shortlisted for an award associated with Ted Hughes and Carol Ann Duffy," said Ms O'Reilly.
"My version of The Persians wasn't written in rhyming couplets so it isn't a piece of poetry written for the stage.
Burnt-out tanks
"However, I did try to echo the rhythms and patterns of Aeschylus' work so I would say it is a lyrical piece."
National Theatre Wales managed to gain unprecedented access to military ranges on the Brecon Beacons to stage the play in August 2010.
Audiences were transferred by bus to the remote village of Cileni where the play was performed amidst burnt-out tanks.
"I knew that The Persians would be performed on the military range when I was writing my version," said Ms O'Reilly.
"I was aware that soldiers had trained on the site before going to Iraq and Afghanistan, which were once part of the Persian empire.
"This provided a resonance that influenced my version of the play to try and imagine Aeschylus' voice without trying to be too academic."
Ms O'Reilly, who is the sister of Miriam O'Reilly, the former presenter of BBC One's Countryfile, has lived in Llanarth for the last 12 years.
Her awards include runner-up in the Royal Court Young Writers' Festival, co-winner of the Peggy Ramsay Award (1998), Theatre Wales best new play (2003) and Manchester Evening News best play of 2004.
'Dramatic monologues'
In 2010 she won a commission to create an arts project for the London 2012 Cultural Olympiad.
Ms O'Reilly said: "The project will enable me to write a large collection of dramatic monologues for deaf and disabled actors.
"They will be inspired by the stories and experiences of disabled and deaf individuals across the whole of the UK, to be performed at a variety of venues."
The £5,000 prize for the annual Ted Hughes Award is donated by poet laureate, Carol Ann Duffy, funded from the honorarium she receives from The Queen each year.
Other writers shortlisted for this year's award are Martin Figura, Christopher Reid, David Swann, and Katherine Towers.