Llwyncelyn primary school loses closure vote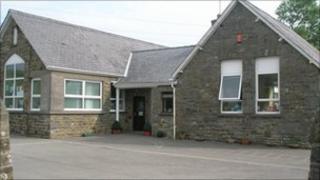 Governors of a Ceredigion primary school have lost their battle to keep it open.
Councillors decided to back a move by the council's cabinet to close Penlôn primary school, Llwyncelyn because of low pupil numbers.
The school's future was decided by a casting vote by council chairman Haydn Lewis.
Earlier, a full council meeting had resulted in a split vote of 12 votes each.
The local authority will now discuss the future education provision for the school's 22 pupils.
Last month a move to close the school was put on hold by a scrutiny committee after councillors queried a claim that pupil numbers had fallen below the council's threshold number of 20.
John Lumley, county councillor for the area, had asked for the school's governors to be given an opportunity to launch a marketing campaign to increase pupil numbers by September.
He said: "This is very disappointing for everyone involved with the school after out hopes been raised by the scrutiny committee.
"The county council's development plan has earmarked 80 new houses to be built in Llwyncelyn by 2022.
"This would have provide an opportunity for pupil numbers in the school to increase over the next few years."
Its last inspection in 2008, when there were 48 pupils on the register, stated that Penlôn was a good school where relationships between teachers, support staff and pupils were always good and often very good.
But pupil numbers have fallen from 59 to about 20 since 2006.
The annual cost per pupil at Penlôn primary is £2,000 per head higher than the Ceredigion average of £3,590.
Chairman of the school's governors, John Jenkins, said that he would talk to parents to consider future options.
"We could appeal to the Welsh Assembly Government to reverse the decision but this may only slow the closure process so that the school stays open until April 2012."
A Ceredigion Council spokesman said: "During the next few weeks we will hold a meeting with the school's governors and staff to make arrangements for the future education of the pupils."