Breeders row over future of Cardiganshire corgi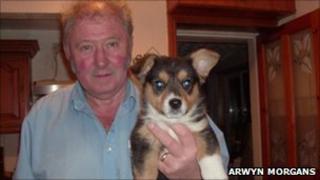 Rival corgi breeding societies in mid Wales are at loggerheads about the best way to ensure the breed's future.
The chairman of newly-formed Cardiganshire Yard Dog Society claims the breed could be extinct in 20 years.
He wants to see an increase in the number of dogs bred in the UK.
But the vice-president of the rival Cardigan Welsh Corgi Association claimed "indiscriminate" breeding could see more dogs with genetic disorders.
Builth Wells butcher Arwyn Morgans, chairman of the Cardiganshire Yard Dog Society, said: "There were less than 300 Cardiganshire corgis registered last year and year-on-year less puppies are being registered which means the breed could be extinct within 20 years.
"Our aim is to increase numbers so that they can be used for what they were originally bred to do to drove cattle by barking and nipping at the their heels."
Believed to have been brought to Wales by the Celts in about 1200 BC, the Cardiganshire corgi was described as a yard dog in the Domesday Book in 1086 because it measured one yard from nose to tail.
The Pembroke and Cardigan corgis were interbred until the 1920's when breeders decided to accentuate their differences.
Brenda Piears, vice-president of the Cardigan Welsh Corgi Association, which was formed in Lampeter in 1926, said: "I have no problem with this new society developing dogs for working on farms.
"What I am worried about is that indiscriminate breeding could endanger the future health of the breed.
"The corgi has a genetic eye disease called PRA which we have been able to identify through DNA matching.
"We are trying not to breed from animals that have this disease.
"Increased breeding could result in corgis not being registered with the kennel club which means that PRA could increase again."
Mr Morgans countered Mrs Piears' concerns by claiming that he had found it difficult to obtain paperwork from breeders to enable him to register new litters with the Kennel Club.
"Not having the correct paperwork for a dog could mean that you can only sell dogs for £200 each rather than £700 each," he said.
"The bottom line is that only 46 Cardiganshire corgi puppies were registered in Britain last year.
"We must all work together to ensure the breed survives and my priority is to ensure that farmers can get hold of corgis as working dogs."