Penparcau sport project gets council backing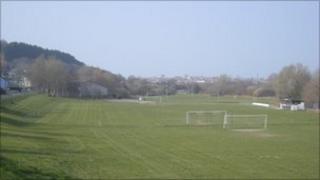 A plan to build a £350,000 sports facility in one of Ceredigion's most disadvantaged areas has won backing.
Ceredigion council's cabinet has agreed to provide £100,000 to set up a multi-use games area and AdiZone at Penparcau, near Aberystwyth.
The initiative, subject to planning consent, is also backed by £250,000 from the assembly government.
The project is expected to be up and running by July.
AdiZones are free, open space amenities designed in the shape of the London 2012 Olympic logo.
They aim to encourage more young people and families to get involved with sport and physical activity.
Surrender
Each adiZone and multi-use gaming area (MUGA) comprises of a modern 18 station outdoor gym, basketball area, football goal, tennis wall, climbing wall and an open area for aerobics, dance, martial arts, gymnastics and play.
The facility would be based in the Min-y-Ddol area of Penparcau.
The land, owned by the council, is leased to Penparcau Football Club whose committee has agreed to surrender it.
Penparcau FC committee member, David Gornall, said: "We were happy to allow a section of land below the pavilion to be used for this project.
"We are now waiting for planning consent before we sort out the fine detail of the project."
Penparcau is a Communities First area, that is home to about 3,000 people.
Aberystywth-Penparcau Communities First co-ordinator, Bryn Jones said: "It is great to hear that the council is investing in the people of Penparcau and we will do our utmost to support this project."
The Adizone, once built, would be leased to Aberystwyth Town Council which has agreed to support the project for 15 years.