Brecknock Museum and Art Gallery restoration boost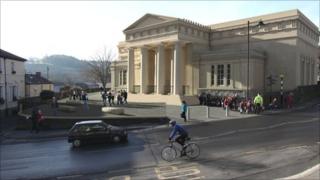 Work on multimillion-pound plans to restore a distinctive museum and art gallery is to start with the help of £140,000 of lottery money.
The Grade II star listed Brecknock Museum and Art Gallery in Brecon, Powys, needs repairs to its Victorian stonework and its roof.
The Heritage Lottery Fund (HLF) grant means Powys council can develop its plans in order to win further money.
The council is bidding for £1.9m from the HLF as part of the £4m project.
Councillor Gwyn Gwillim, who is responsible for leisure and recreation, said: "This is a major step forward for Brecknock Museum and it gives us a real opportunity to restore this remarkable building, bring the displays up to modern standards and allow the public better access to the collections."
Last year, Powys council said buildings in Brecon which were surplus to requirement could be sold to help fund the revamp of the museum and art gallery.
The building, which was built in 1842 and originally used as a county hall and an assize court, was opened as a museum in 1928.
The council claims it is one of the finest examples of early Victorian "Greek revival" architecture in Wales.
The grant means the council can develop its plans in order to win further money from the HLF.
As well as restoring the building, plans are to create more room for storage and a permanent art gallery.
Dan Clayton Jones, the chair of HLF in Wales, said: "Brecknock Museum holds the largest collection in Powys including important material related to the archaeological and social history of mid Wales, all housed within the Grade II star former shire hall."
The local authority failed in a bid for £2.5m from the HLF in 2009.